Mapping the Solutions to Homelessness
Part 1
Join us for the first part of a tour of our revised, restyled, and revamped map!
Homelessness is an issue with numerous root causes. In previous articles, we have discussed how inadequate health care, unstable housing, and poor policies exacerbate the current state of homelessness. What is more, each one of those issues is extraordinarily complex in their own right.
Care For the Homeless' (CFH) goal as an organization is to end homelessness. So, to pursue this goal strategically and efficiently, we must commit ourselves to developing multiple solutions to it.
We make good on this promise by delivering a variety of services. Now, we could list all those services out and explain them in incredible detail. However, we are sure you will agree that there are more interesting ways to go about doing that.
So, instead, we are taking you on a 2-part tour of map which has just recently been revamped! We're calling it 'Mapping the Solutions to Homelessness.'
Mapping Out Solutions
The first things you will notice when looking at the CFH map are the icons. They stretch from Mott Haven in the Bronx to Bushwick in Brooklyn, Jamaica, Queens. Having myriad locations allows our providers to treat more patients than ever before. What is more, because of this approach's success, we are continuing to expand across the city and serve more people.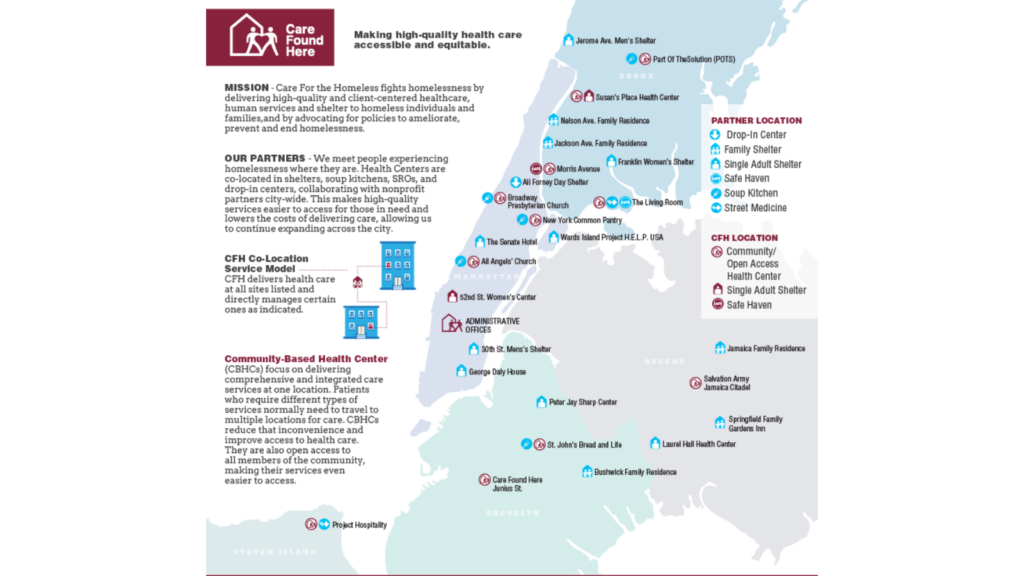 Additionally, since transportation is a significant concern among people experiencing homelessness, convenience goes a long way.
It Takes Partners
That convenience is amplified by our co-location model.
We deliver health care at every specific location on the map. However, we do not independently operate every location listed. If you examine the key to the far right, you will notice that there are six distinct kinds of 'partner locations.' Each one is represented by its own unique blue icon.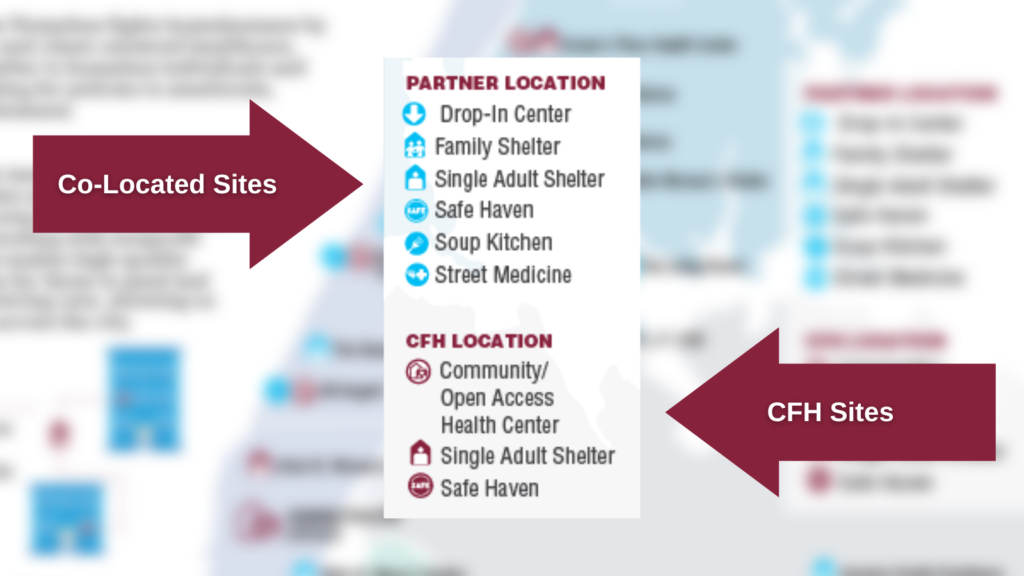 They range from family and single adult shelters to soup kitchens and safe havens. These services are essential to people experiencing homelessness. And partnering with the non-profits that operate them, to co-locate a CFH health center or CFH health services on the premises, helps us meet our patients where they are.
This approach to health care delivery has proven to be one of the most effective methods of ending individual cases of homelessness.
Jennifer's Journey
In February of 2020, we met a woman named Jennifer. She had been staying at the Living Room, a safe haven in the Bronx run by our partners at Bronx Works. Jennifer had been struggling with a substance use disorder that began when she received a prescription for pain killers after a back surgery.
After meeting CFH physician Dr. Andrea Littleton at our health center, she enrolled in the suboxone program. Later that year, after achieving sobriety, she reconnected with her family in New Jersey. Now a grandmother, Jennifer pursued her GED and is working towards becoming a recovery coach.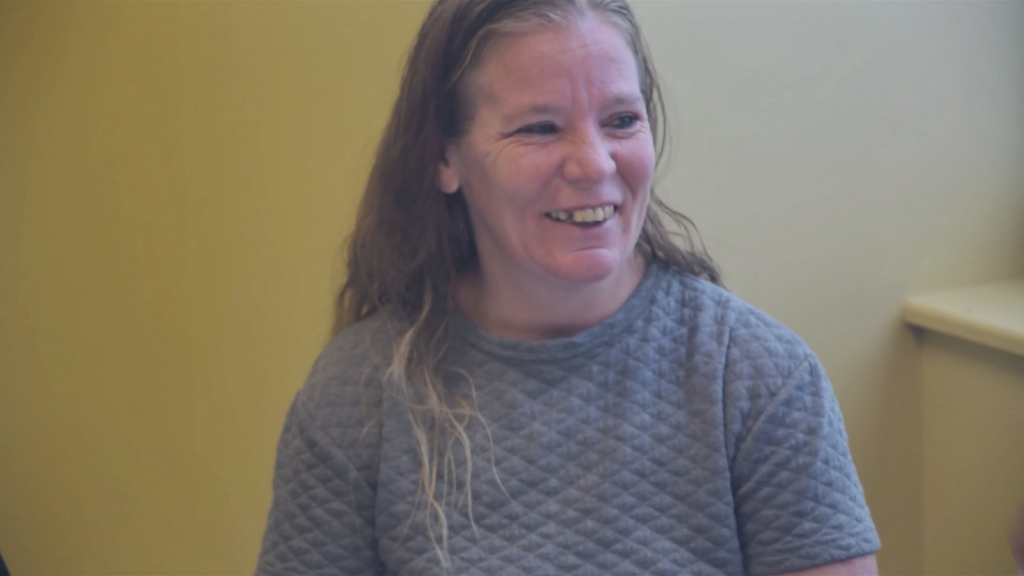 Jennifer's story is one of many and clearly illustrates the effectiveness of the co-location model. You can read her full story by clicking the link below.
What is more, it communicates the importance of partnership, as ending homelessness is a collaborative effort. In the same way that there is no one solution to homelessness, there is no one organization to create or deliver all those solutions.
More than their literal meaning, that principle is what each blue icon represents.
Specific Sites Serve Specific Needs
No two people experience homelessness in the same way. Co-location improves access to services, yes. However, it also helps our providers address each nuance and complex health issue present in any given episode of homelessness.
For example, a woman in a single adult shelter is going to have unique needs from a mother in a family shelter. This is also true for people utilizing services at soup kitchens, safe havens, drop-in centers, and community-based health centers.
Soup Kitchens
Currently, we have five health centers co-located at soup kitchens. They are located throughout Manhattan, Brooklyn, and the Bronx. You can find them by looking for the 'fork' icons.
People experiencing homelessness often prioritize food over health care. Therefore, co-locating at soup kitchens forms a much-needed connection between the two services.
One of our most successful partnerships is with Part of the Solution (POTS) in the Bronx. The site offers many essential services in addition to operating a soup kitchen. We have operated our health center there for a decade. Through this collaboration, we have been able to service nearly 800 patients per year.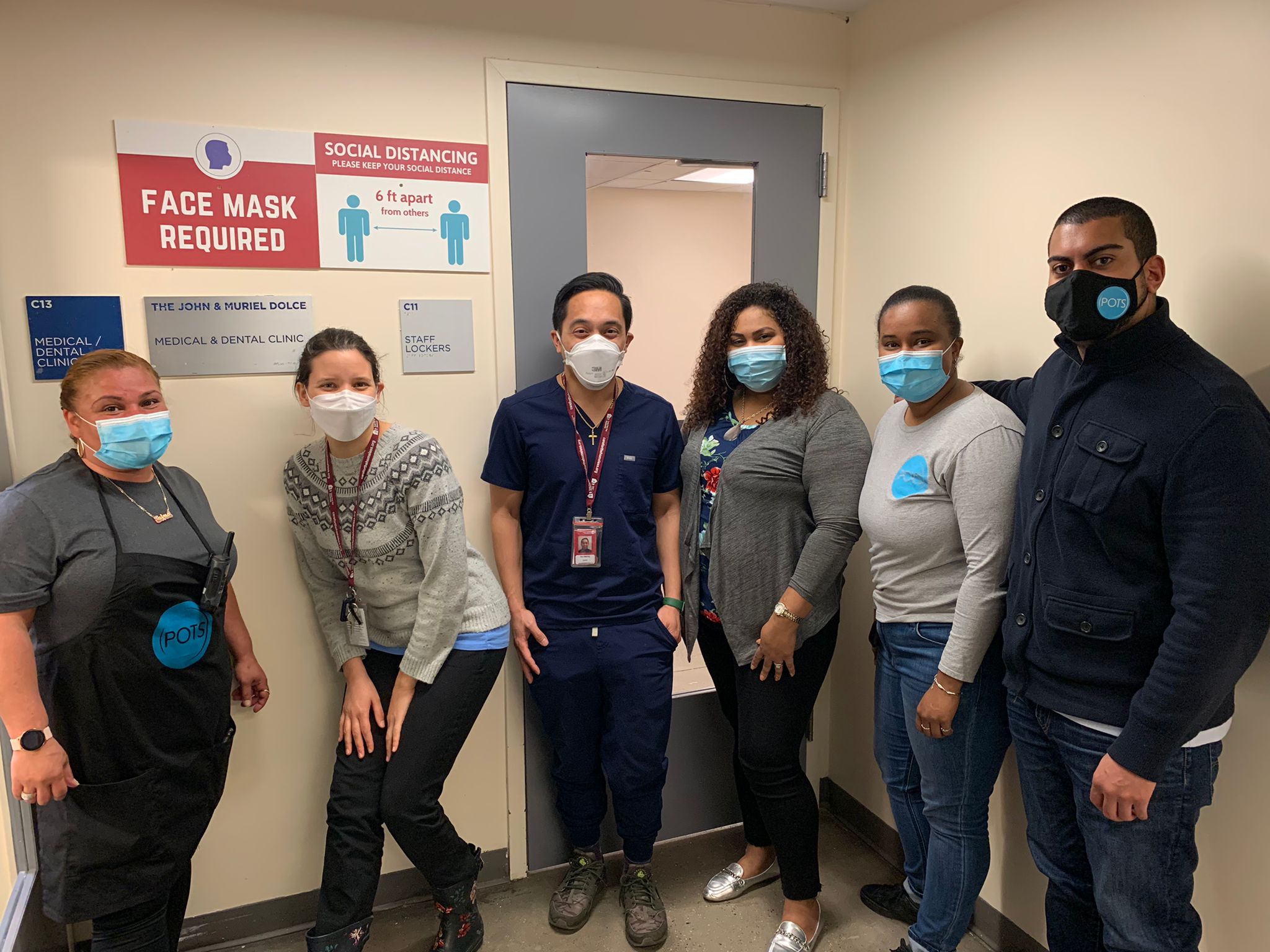 What is more, the CFH health center at POTS also offers dental services. Like primary care, oral health often goes unattended amongst people experiencing homelessness.
"I think a lot of things are interrelated when it comes to what's happening in the mouth and what's happening in the body," says CFH Dentist, Dr. Mark Makiling. "For example, there are a lot of links between gum disease and diabetes."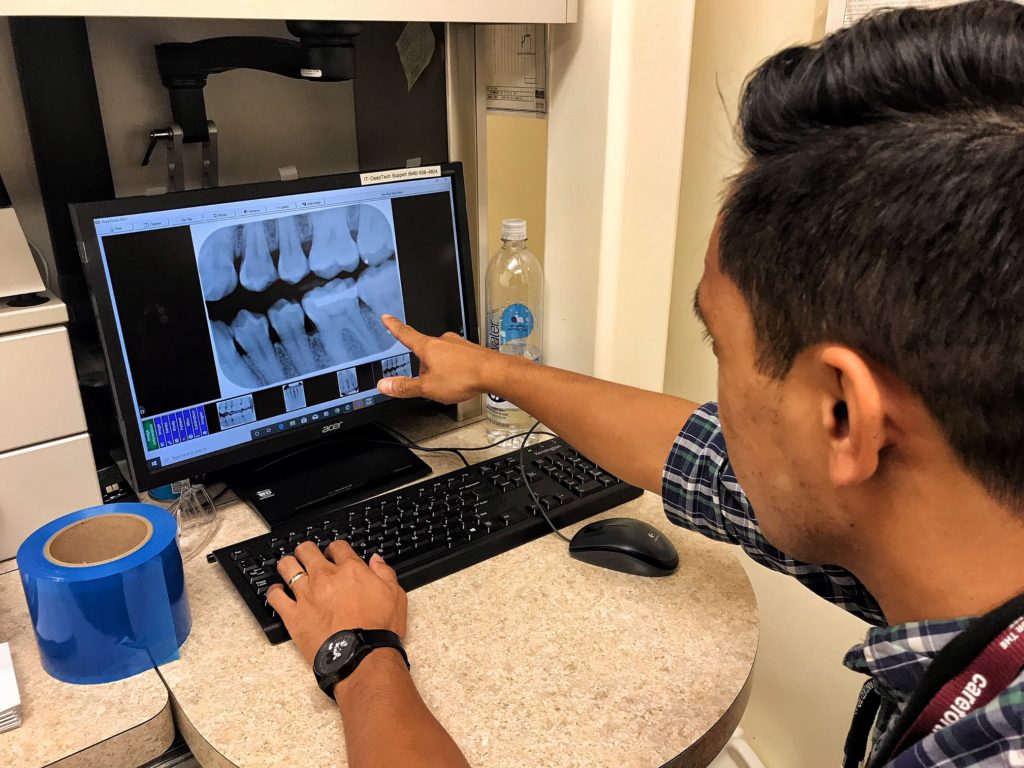 Last year, over 1,000 CFH patients utilized oral health services. While not all went to POTS, the site's contribution to this number is significant.
"I am always happy to help people who aren't able to see the dentist," says Dr. Makiling. "And I feel like we experienced so many patients who either had never been to a dentist or hadn't in a long time."
Safe Havens and Drop-In Centers
The focus on the growing street homeless population in New York City has drawn significant attention in recent years. With this increased attention comes an increased call to provide services to those living on the street.
Drop-in centers provide those experiencing street homelessness with a place to get off the street, have a hot meal, and access health care services. Safe Havens provide similar services. However, they also offer beds in addition to the previously mentioned services.
Moreover, safe havens allow residents to come and go and they can do this without fear of being turned away when they return. This kind of freedom has proven to be extremely successful in not only retaining residents but motivating them to take advantage of other onsite services.
Care Found Here – Morris Avenue
We partner with one other organization to co-locate at both a drop-in center and safe haven. However, this past March, we opened our very own safe haven: Care Found Here – Morris Avenue.
Located just across the street from Lincoln Hospital in the Bronx, the site aims to address the needs of the local street homeless population. Morris Avenue offers a New York State Licensed health center, beds, showers, hot meals, laundry, a communal space, and social services, including housing placement. You can click the link below to take a virtual tour of all these spaces.
Even though it has only been open for a few months, the site has already served over 100 men; a few of whom have already achieved stable housing. Stay tuned over the next few months for more on this exciting development.
"CFH is proud to create effective solutions that bring people indoors, provide high-quality health care and social services, and help clients achieve permanent housing," says CFH President and CEO, George Nashak. "These are the solutions to street homelessness."
"The opening of the Morris Avenue Safe Haven, and others like it, will provide unhoused New Yorkers a place to live, heal, and be cared for," echoes New York City Mayor, Eric Adams.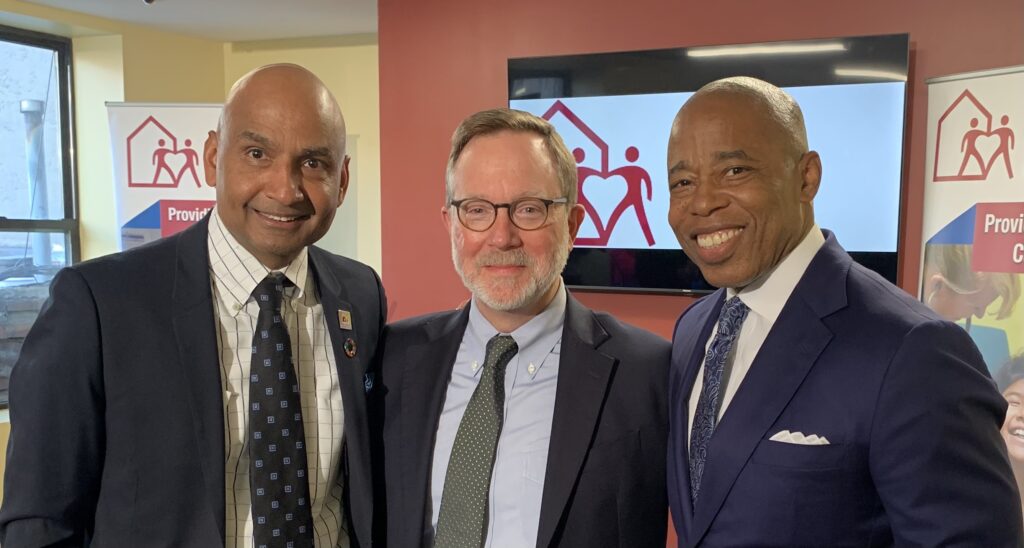 Stay Tuned for Part 2!
Thank you for joining us for part one of the tour. Join us again in 2-weeks for part two, where we'll continue to examine the many ways, we deliver care.
If you enjoyed reading and learning about this work, please consider supporting it. Ending homelessness is a collaborative effort and even the smallest donation can make a difference.