Co-Located Compassion
CFH FNP, Molly Phillips, discusses the benefits of co-location and the necessity of trauma informed care.
Care For the Homeless (CFH) serves people experiencing homelessness in 27 locations throughout the five boroughs. However, all of these health care delivery sites are co-located.
The Many Benefits of Co-Location
For example, many of our health centers are co-located within transitional shelters. Apart from the CFH managed Susan's Place, 52nd Street, and Morris Avenue, these shelters are operated by our non-profit partners.
A person experiencing homelessness can't always prioritize health care when they aren't sure where they're going to sleep or when their next meal will be. Co-located health centers within shelters make high-quality health care services accessible. As in: 'walk down the hall, accessible.' Thus, alleviating some of those anxieties.
A similar logic is applied to our health centers co-located in soup kitchens or drop-in sites. Get a meal, a shower, and health care.
Likewise, Junius Street, our freestanding, community-based health center, is located next to a family supportive housing unit. In addition, multiple shelters are 1 to 2 blocks away.
Furthermore, each of these co-located sites treats and houses different people. For example, the needs of a single adult can differ significantly from that of a single parent or family. Convenient, co-located health care allows CFH providers to address each nuance and complexity present in any given episode of homelessness.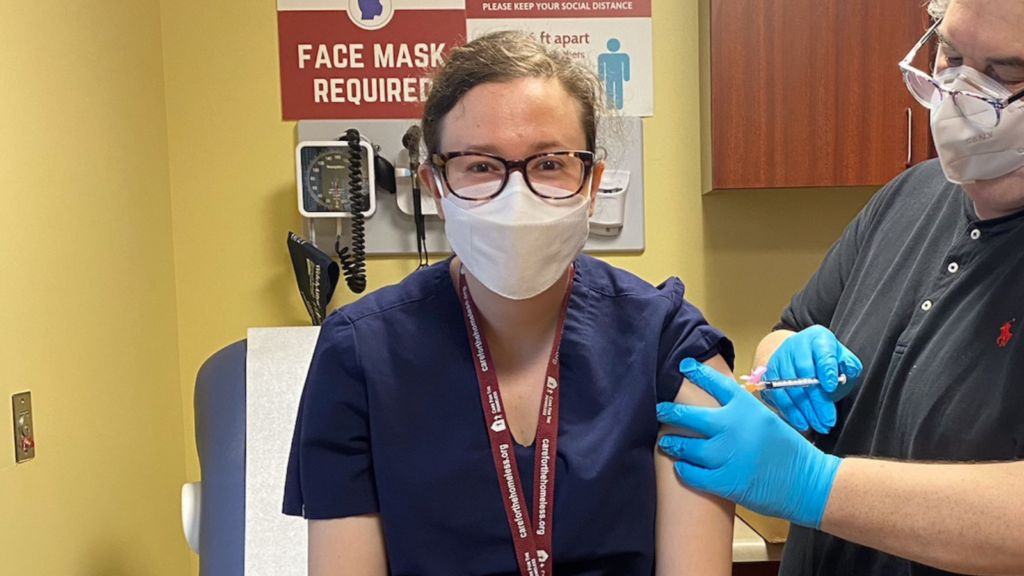 Molly Phillips, Family Nurse Practitioner
One of those providers is Molly Phillips. Molly joined CFH as a Per Diem Registered Nurse in October of 2019. At the time, she was still in school, working towards becoming a Nurse Practitioner. She achieved this goal in September of 2021 and joined CFH full-time as a Family Nurse Practitioner.
Throughout her time with CFH, Molly has seen just about every site on the CFH map. As a result, she has a unique perspective on the various needs of patients at each one.
"Now, I split my time between Junius Street and St. Johns [Bread and Life]," she explained. "Both are open access and in Brooklyn, but both are also very different. "Junius is a wide range of people," she continued. "But we do have a couple family shelters within the block and there's [supportive housing] nearby that we see a lot of folks from. There's also a men's shelter nearby that we get folks from too."
"At St. John's, we see folks who are street homeless or kind of bouncing around from people's couches. They can come and get food and come and get medical care."
Through Molly's eyes, we can see that homelessness itself is not an isolated issue. Housing instability, food insecurity, and more are always other things at work causing it and/or perpetuating it.
The services we offer at each site help alleviate those concerns. However, it is the co-location tactic that makes those services accessible. It bypasses social determinants of health like location and transportation. In short, access equals care.
However, as we'll see, it's not enough to just deliver care.
Co-Located Compassion
Homelessness is a traumatic experience. Moreover, many homeless New Yorkers have had negative experiences with traditional health care settings. This is why each CFH provider takes a 'trauma informed' approach.
Trauma informed care is a compassionate approach to health care delivery. Providers cultivate trust with their patients, learning about their life experiences, in addition to providing care. In addition, they acknowledge the impact that the trauma of homelessness has on an individual's health.
"It's nice to work with a group who are non-judgmental in the health care they provide," said Phillips. "They're also committed to advocacy for our patients and to building trusting relationships with patients."
Treating Humans Like Humans
Of course, this is the approach taken at all CFH locations. However, it is crucial at places like the Peter Jay Sharp Center for Opportunity (PJS), where many residents have been previously incarcerated.
Phillips specifically recalled an experience she had with a patient at PJS. It was April of 2020, and the COVID-19 pandemic was hitting New York City hard. The gentleman had just been released from prison and had been living in the shelter for a few months. FNP Phillips was seeing him for an appointment about his recent diabetes diagnosis.
"I just remember him saying to me, 'So many people don't treat me like I'm a human. Between being homeless and having a history of incarceration, people ignore me. They look past me. They don't treat me like a human. But you all, in these clinics, not only treat me like a human, you treat me with respect. You are risking your lives to come out here and to make sure that I'm able to understand how to use my insulin and how to get my diabetes under control.'"
A trauma informed approach helped the man Molly worked with understand his diagnosis and how to address it.
It's Personal
Molly Phillips has been with CFH since 2019, so her dedication to this work is clear. However, prior to her time with us, she worked all over the country in various roles related to health policy and social work.
"I certainly am someone who feels very strongly that healthcare is a human right and that everyone deserves access to really high-quality compassionate care, regardless of their ability to pay for it," she explained.
"I think our healthcare system and our insurance system has so many issues. And I've always been interested in health literacy, social justice, human rights, and advocacy."
Molly's passion and talent took her everywhere from Detroit to rural Mississippi and more.
"In my work, I've always seen the relationship between socioeconomic status and access to services and health."
Eventually, this line of work brought her to New York City. After continuing to work in health education and advocacy, she enrolled in Columbia University's Family Nurse Practitioner program.
For Molly, the two fields have been a perfect match.
"I mentioned health literacy earlier," she said. "And healthcare is a different language. People have so much information thrown at them, and they don't know what to do with it. Most of my visits are spent doing education and making sure people understand."
"I want my patients to leave feeling like I listened to them and feeling like I've heard what they're saying. I want them to know I've heard their concerns and that I'm going to act on them."
The Team
Fortunately for us and those we serve; Molly is just one of many providers with a similar outlook and mindset.
"I think the clinical teams at all of the sites are fantastic," said Phillips. "Everyone that I've met on all the clinical side has provided such compassionate care to all of our patients. They really want to be working with this patient population and want to provide the best possible care we can. They want people to know that we're here for them and care about them."
Molly Phillips' passion for her work and compassion for those she work's with illustrate what it truly takes to end homelessness. We are thankful to her and all of her colleagues for the great work they do every day.