Provider Profile | Dr. Mark Makiling
Dr. Mark Makiling found his second home when he became the dentist at at Part of the Solution (POTS) in the Bronx. In his interview, he talks about the connection between dentistry and general health and how he passes on what he's learned to others.
By Connor T. Moriarty
She knew she had to have her broken tooth removed. The pain and potential for infection had already gone too far. However, the thought of going through the procedure without anesthesia made her nervous.
Putting the Patient First
"I know we can do this," said CFH Dentist, Dr. Mark Makiling. "If you trust me, we'll go slowly and get it done. If you need a break, just let me know and we'll stop."
Soon enough, the tooth was removed and all she could do was laugh. She couldn't believe how easy it was.
Dr. Makiling had a denture ready for her a few months later. Her teeth had been broken for so long and now they were finally back in.
"When she saw how she looked with her teeth, she was so happy," said Dr. Makiling. "She gave me a big hug and was so grateful. It really reaffirmed why I continue to do this type of work."

Dr. Makiling's desire to work with underserved patients began at the NYU College of Dentistry – even if he didn't know it at the time himself.
Discovering the Right Path
While at NYU, Dr. Makiling participated in an outreach program in Maine that focused on regions with little to no access to dental care. Later, in his senior year, he joined an elective called "The Program for the Survivors of Torture."
The Bellevue/NYU run program assists individuals and families who have been subjected to torture and other human rights violations.
"I loved it," said Makiling. "But I didn't know it was something I could pursue as a career."
After graduating, Dr. Makiling worked for a time in a private practice, but quickly realized that it wasn't for him.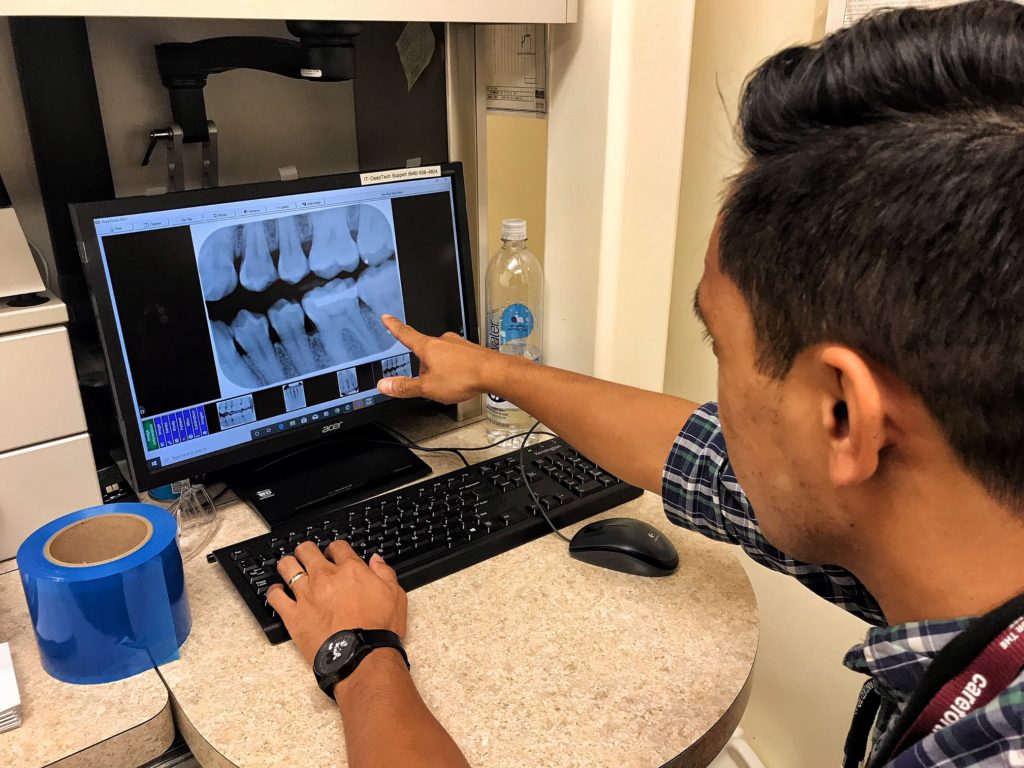 "Even though I was 'helping people,' commented Makiling, "the business aspect always got in the way. I didn't like the feeling of selling something to people. I wished I could go back to just helping people."
That all changed when administrators at NYU told him about for a recently vacated dentist position at the CFH Health Center, co-located at Part of the Solution (POTS) in the Bronx.
"It clicked. I thought it was exactly what I was looking for," said Makiling. "And ever since [I started], I've been happier with my career than ever before."
Your Teeth, Your Body, and You
During that career, Dr. Makiling has helped numerous people with their dental health. Which goes beyond cleanings, whitenings, and extractions.
"I think a lot of things are interrelated when it comes to what's happening in the mouth and what's happening in the body," Makiling commented. "For example, there are a lot of links between gum disease and diabetes."
Diabetes reduces circulation in blood vessels and consequently, also weakens the body's ability to fight infections. Gum disease is chief among these for homeless individuals.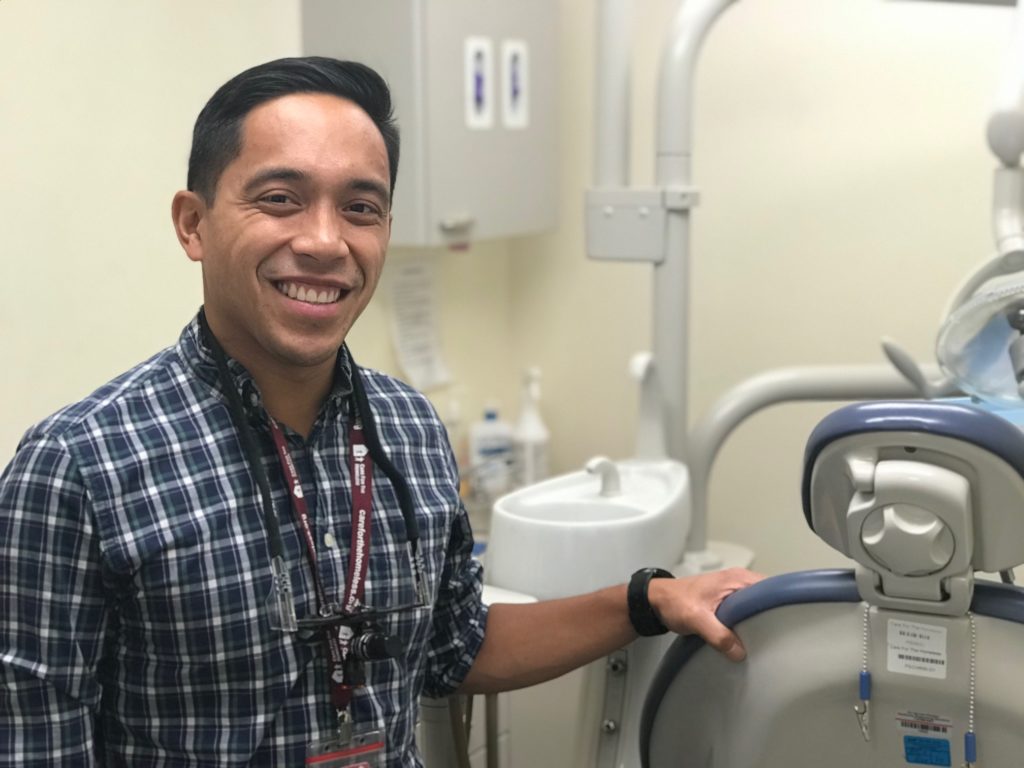 In fact, a 2019 study by the National Health Care for the Homeless Council found that more than 59% of patients with diabetes also had gum disease.
Dental Health is General Health
Gum disease causes severe health and lifestyle complications if left untreated. People lose teeth and experience pain when chewing. However, they also experience changes in their appearance that can lead to lowered confidence and employability.
"When your teeth hurt, you're taking time off from doing other important things that you need to be doing," said Makiling. "My focus is getting my patients to a place of stability. That way they have one less thing to worry about."
Dr. Makiling achieves this by cultivating relationships with his patients based on trust and respect.
"I try to take the time to tell them exactly what's going on," explained Dr. Makiling. "It takes a lot for someone experiencing the trauma of homelessness to even get themselves into medical care. So, I just try to listen to them and find out what they need most. I've found that it gets them more engaged in caring about their dental health."
"One of my biggest responsibilities in that effort is making sure that my patients are getting something to eat," Dr. Makiling continued. "Because if they're missing all these teeth or have broken teeth, then they're not getting the nutrition they need."
Passing the Baton
What's more, Dr. Makiling can consistently pass on what he's learned and what he knows to other aspiring dentists.
The NYU College of Dentistry requires all students to complete community outreach work at a health center outside of the school. CFH is a partner with NYU in this program, providing training opportunities for half a dozen students. Dr. Makiling supervises and mentors these students while they complete their program.
"I think the program we have with NYU is really great," he said. "It gives them a chance to experience something much different than what they do at school and it gives them a chance to help people who really need it."
The NYU students have consistently gone above and beyond, according to Dr. Makiling. A few months ago, they noticed some swelling on a patient's throat. The individual was sent to the hospital where the lump was determined to be malignant.
"They saved a life," said Dr. Makiling.
The experience was enough to encourage one of Dr. Makiling's students to pursue working with underserved patients as a career.
Dr. Makiling's Future Goals
"I think it's very vital for students to consider working with underserved patients as a career," said Dr. Makiling. "It's crazy how not-talked about this field is in school. If we started telling students about this kind of work earlier on, more might consider it for their careers, and it could help a lot of people."
Increasing the number of dental providers is one of Dr. Makiling's primary goals as he continues his work at CFH.
"The more people we can provide this service to, the better," he said.
In August of this year, Dr. Makiling was selected by his peers as a CFH Health Care Champion. The award is given to those who commit to providing care with compassion, acceptance, and understanding. He was recognized at the Professional Health Care at Home Annual Health Care For the Homeless Day.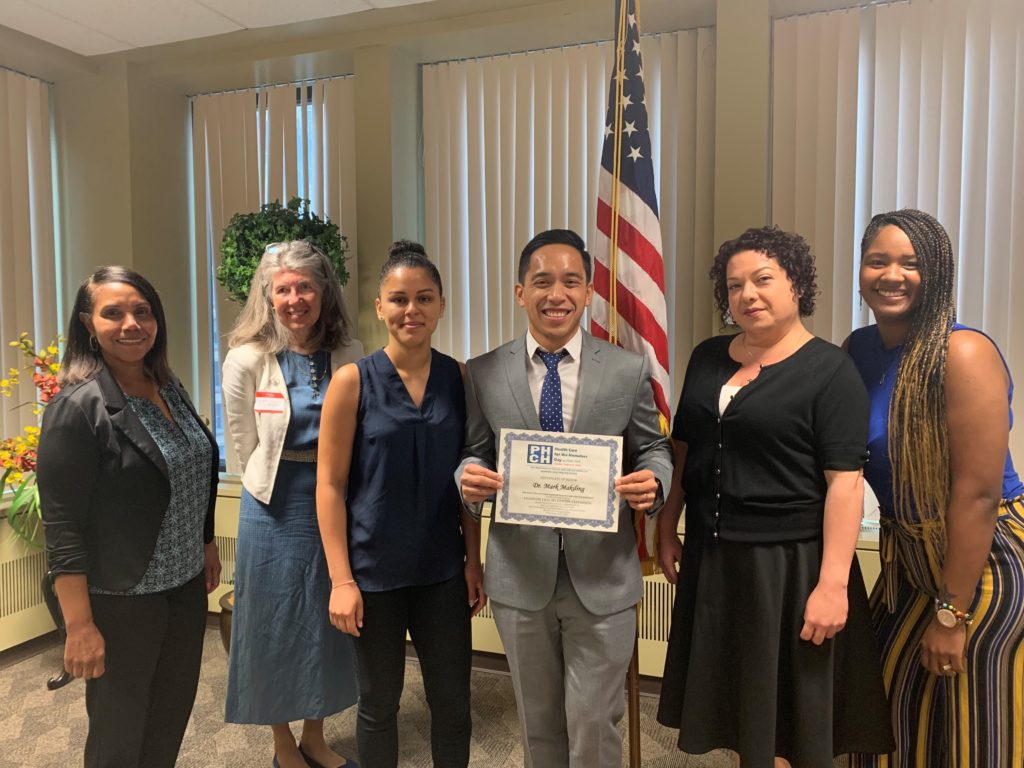 Dr. Makiling's work is exemplary of CFH's goal to provide health care that is of equal quality, to care that someone who isn't homeless would receive.
The services delivered daily by Dr. Makiling, and all our providers and staff is made possible by great friends like you. Thank you!