Reconnecting with Jennifer
We first met Jennifer D. at the Living Room in the Bronx, where she was receiving care for her opioid addiction. Fast forward almost 2 years and she's on her way to becoming a counselor, so she can help others.
"My dream? To have my own house or apartment. Something of my own. Where I could open the door with my key and say I worked hard for that."
Those are the words of Jennifer D., who we first met in February of 2020.
At the time that we met Jennifer, she had already been experiencing homelessness for two and a half years. In addition, she was struggling with an opioid addiction that began after she took pain killers for a back surgery.
Her situation began to improve after she visited the Living Room, a drop-in shelter in the Bronx with a CFH Health Center on site. It was there that she met CFH provider, Dr. Andrea Littleton, who helped her enroll in the suboxone program.
She has maintained sobriety ever since.
Jennifer D.
We crossed paths with Jennifer again that summer when she was awarded the Health Care Award as part of the CFH Summer Success Celebration.
In a video she sent us, she explained that she had moved back to her home state of New Jersey and had been reunited with her family. She had also been employed and had secured an apartment.
This month, we reached out to Jennifer to reconnect.
Looking Forward
As we had hoped, she had lots of good news.
"I look forward. I never look back," said Jennifer D. "And the reason why I say that is, once I got reunited with my family, I just kept looking forward each day. I wake up every day and say, 'All right. Thank God. I'm still here to see my kids and my grand kids.' I just became a grandmother [again]."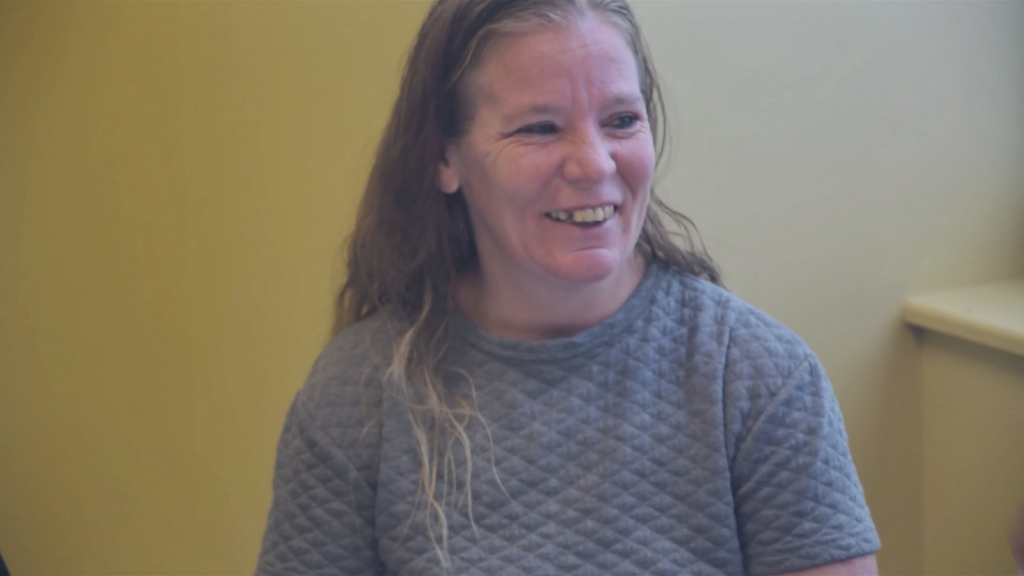 Jennifer also began working towards earning her GED in early September of this year. She wants to use her education to help others experiencing homelessness and substance use disorder.
Hopes
"I came across a family, a lady with two kids and she was homeless and I'm like, wow, I could relate to her, coming off the drugs and living in the street and all that," Jennifer commented. "So, I ended up helping her. I helped her get a job and get off the drugs. I helped her kids get jobs and back into school."
"There's also a lot of people out here that are homeless and using drugs," she continued. "I want my recovery to also help them, let them know there is better out there and hopefully grab them and be able to show them they can do it. That's my main goal."
Inspiration
As of this writing, Jennifer is working with a local addiction recovery center and is well on her way to becoming a counselor.
"I love helping people. That's my thing. I just love helping people."
Jennifer was also excited to acknowledge her inspiration for this ambition.
"Dr. [Andrea] Littleton gave me this motivation," Jennifer explained. "I'm doing this in her honor because she's the one that actually helped me get to where I am today. If it wasn't for her, I don't think I would be here today."
The Power of Story
Jennifer's passion to pay it forward is as noble as it sounds. Her pursuit of her GED and education with the local recovery center illustrate that. However, as important as these educational tools are to Jennifer, she believes her most important asset is her story.
"I would let them know my story," responded Jennifer D., when asked what her advice would be to others experiencing what she once did. "The things I went through, the hard struggles, and how my life changed once I became sober."
"The only way you could get to people, I think, is once you talk to them about your life story. Then they understand, 'Oh, she really knows what she's talking about. She knows how it is. Let me take her advice and see if it works.' And that's how I look at it."
"If you sit down and talk to people, get to know them, and let them know your story, they will relate to you."
Solutions to Homelessness
Jennifer's story is one of hope and she is just one example that proves homelessness is solvable. However, there are so many others like her that could similarly benefit from high quality health care services — a proven solution to ending homelessness.
If you would like to be a part of the CFH solutions to homelessness, please consider making a gift of any amount today!