Why In-kind Donations Matter
In-kind donations help reduce the stress that comes with not having a toothbrush or fresh pair of socks, but they do so much more.
Hats, scarves, and socks are essential items that can make a big difference to a person experiencing homelessness. The same goes for toiletries, diapers, and formula. However, as important as each item is, they are often difficult to come by for homeless New Yorkers, especially when other needs, like food and shelter, are higher priorities. In-kind donations help alleviate some of the stress that comes with not having one or more of them. Which is great, but they do a lot more too.
Filling in Gaps
In-kind donations fill in gaps. A mother feels warm with her new hat and gloves while she walks to work on a frigid winter day. A man is confident going into a job interview because he had soap, shampoo, and deodorant. A child feels a little bit more normal in school with their new backpack, notebook, and pencil case. With these gaps filled, people are free to focus more on their journeys toward permanent housing.
In 2022, friends like you from twenty-eight states across the country donated over 14,600 in-kind items with an estimated value of $92,200! These items ranged from socks, clothing, and winter accessories to personal care items and hygiene kits. Many of our generous donors also gave handcrafted items, containing special messages.
What's more, funds saved because of donations went directly into our health care services. That means more medications for uninsured patients and more immunizations for children starting school.
You can look below for a breakdown of all the gifts our patients and residents received last year.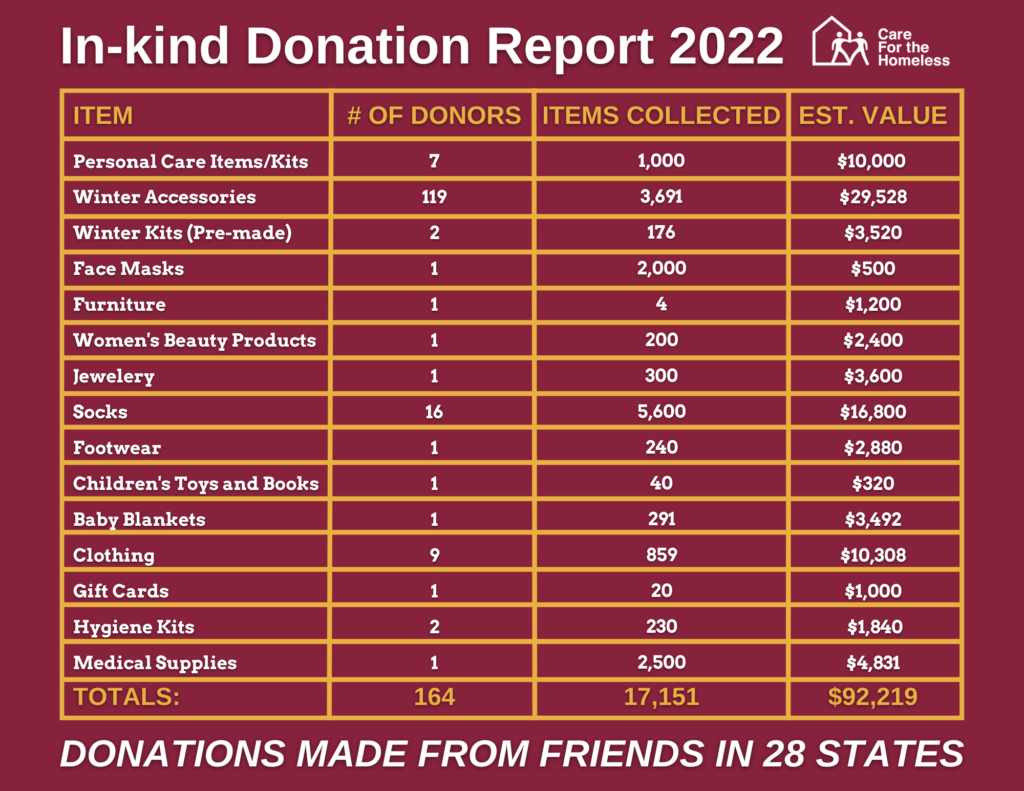 Testimonials
Some of our donors also reached out to let us know why they gave.
Kuljit Anand of the Sikhs of Westchester said, "We are grateful that we are able to help. Having the means to be able to share is truly a blessing."
Beth Blankstein of Shalom International echoed, "We donate to many charitable causes because we feel it is our responsibility to give back to the community."
Click below to meet all of the amazing folks who made in-kind donations in 2022!
Start Your Own Drive
We are truly humbled by the outpouring of support we receive each year. Every CFH patient and resident feels the same.
If you would like to join in and start your own In-kind Drive, please click below. We would love to have you as part of the CFH family of generous, thoughtful donors.