Pivoting in a Pandemic
The pandemic had a unique effect on the CFH Population Health Management Team, who conduct the majority of their work in person. Read more and learn about their work, why it's important and how they made adjustments during the pandemic!
Care For the Homeless President & CEO George Nashak, is often asked, "How do we solve homelessness?"
His response: "If anyone ever tells you, 'Here's the one thing that will solve homelessness,' turn around and walk away. The solutions to homelessness are many and range from political advocacy and housing to high-quality health care."
Together, these services, principles and policies can, and have demonstrably ended homelessness for many.
At CFH, we make it a promise to take all these solutions into account everyday in the work that we do. And one of the most effective tactics in making good on that promise, is population health.
The Population Health Management Team (PHMT)
Health care and homelessness are inextricably linked. So, knowing where to find care and knowing what kind of care you need is essential.
However, it is not always practical for providers to spread awareness about their services in addition to delivering them. That is a full-time job in and of itself. Which is why health education is one of the most important services delivered by our staff.
Enter the Population Health Management Team (PHMT) led by CFH Program Director, Kathy Figueroa.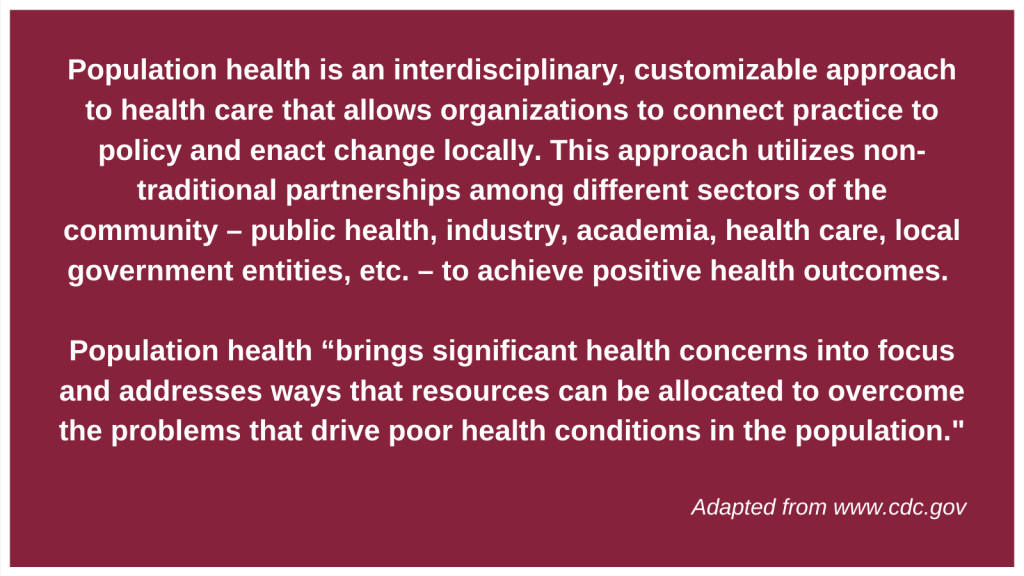 "I would describe [a health educator] as resource person," said Health Educator, Michael Falcon. "So, directing people to services they might not know exist, letting them know what services they can get and helping them navigate something they normally couldn't."
"It involves a lot of community outreach," added Health Educator, Nadia Wilson. "As well as coordinating with the clinical staff to host health events, workshops and seminars." "We bridge the gap," said Health Educator, Ilkia Solano. "We let [potential patients] know 'We are here, we are available within the area and you can come see us at any time.'"
Compassion. Empathy. Accessibility.
Unfortunately, many people experiencing homelessness are averse to interacting with medical professionals. This is a result of both the stigma and trauma of homelessness. CFH staff take both issues seriously. As a result, each individual person that makes an appointment is treated with compassion, empathy and without judgement.
This practice makes patients more comfortable at CFH health centers and contributes to the improvement of their overall health. However, the process of re-building trust begins far beforean individual even makes an appointment.
In tandem with the Peer Outreach Specialists, the PHMT meets people experiencing homelessness where they are.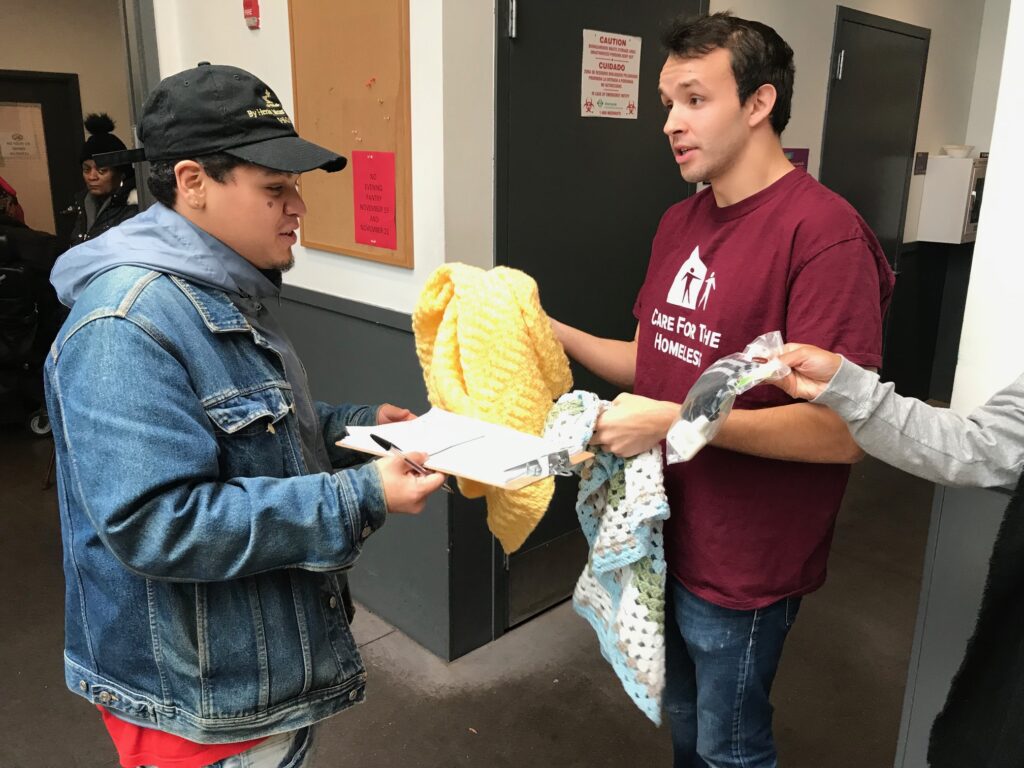 "We recognize that we're not [living] in a homeless shelter," said Falcon. "But being there, being vulnerable, being open to help and being welcoming builds a lot of trust."
These seem like small gestures, but they go a long way and the PHMT sees consistent success because of them.
"For instance, whenever we go to Susan's Place and [the residents] see us, they automatically ask, 'Ok, what are we doing today?', explained Solano. "They want to be involved. We are usually the first face they see, the first person they interact with. So, building that relationship is important."
The team also builds trust with patients by employing two Spanish speaking members. "Two of us speak Spanish and we're able to get [lots of people] engaged and get them to participate in events," elaborated Wilson. "If the team was just English speaking, it'd be more difficult to communicate with our Spanish speaking population."
Health Events
That is all great. Compassion, empathy and accessibility are all essential in the mission to end homelessness. But what does the work look like? What exactly is a health event? What can it accomplish that a one-on-one conversation can't?
Over the course of the year, the PHMT holds several health events with different themes. One month focuses on hypertension, another focuses on cervical health, the next focuses on nutrition and so on. These events give the team the opportunity to engage with people in a group setting. Participants can ask questions about the topic at hand and sign up for an appointment afterwards.
"[The events] help bring attention to their health," explained Solano. "Sometimes people have other priorities, and they don't realize that their health needs to be on that list as well."
"It doesn't hurt that we have incentives for them every time," added Falcon. "It helps draw them in and build trust."
Incentives can take the form of anything from a metro card to a pair of socks. They're small gestures, but they encourage people who have had negative experiences with health care to look past them and trust our providers.
And then, the pandemic arrived.

As a result, these events were absent almost entirely from the team's 2020 responsibilities.
So, how did they adjust to COVID-19?
Pivoting in a Pandemic
The COVID-19 pandemic changed things for everyone at CFH, including the PHMT. They experienced a hard stop on all their events, which were the crux of their responsibilities. In their stead, the team utilized CFH's expanded telehealth services to reach patients.
"Helping people adapt through COVID was and is a challenge," said Falcon. "Not everyone has the capacity to do Zoom calls and things like that. They might not even have an internet connection. So, the best thing we did for people was schedule phone follow-ups."
"We were also able to continue with care coordination," added Wilson. "Which means we follow-up with patients on their appointments and ensure that they're keeping them or re-scheduling them. Then there's Care Gaps, where we call patients that need to do a depression or tobacco screening, or an asthma or diabetes check-up. We're still doing both of those actively."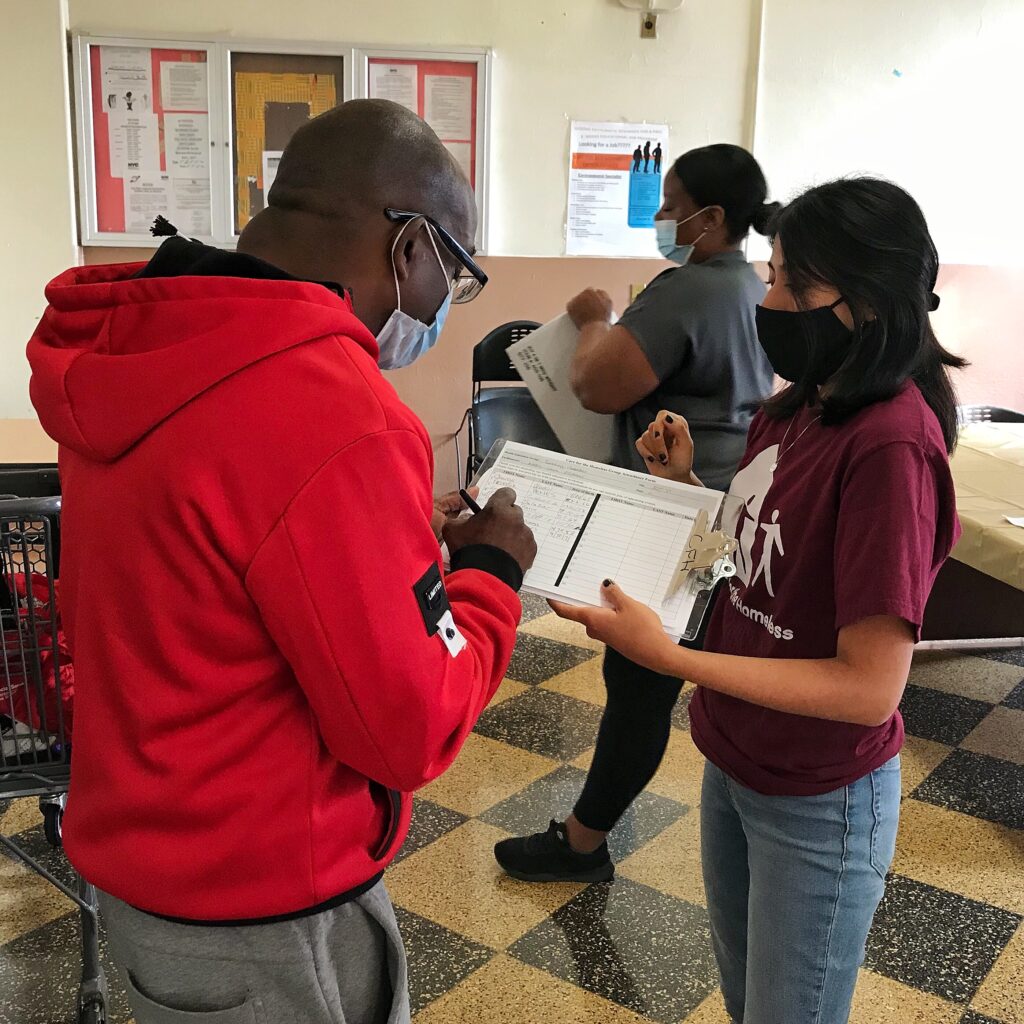 Thankfully, the light at the end of the pandemic tunnel has started to shine brighter.
"At the beginning, people were understandably scared," said Solano. "A lot of patients didn't want to come in even though the health centers were open. But now that the pandemic has died down a little bit, we have definitely seen an increase of patients keeping appointments and staying up to date."
Light at the End of the Tunnel
Lately, a significant number of those appointments have revolved around the delivery of the COVID-19 vaccine. A process the PHMT is directly involved in.
"We contact the people who are interested, schedule their appointments and confirm," explained Solano. "And then the day of, we'll fill out vaccine cards as well as their appointment reminder for their second dose. Then we just help with the event flow."
"We have Stephen [Tapley] running the show at Junius Street," Falcon added. "Then there are the outreach specialists and the rest of the medical staff, and everyone works together really well. It's awesome."
As of this writing, the Care Found Here Health Center at Junius Street continues to deliver the COVID-19 vaccine to the residents of nearby shelters and supportive housing facilities. In addition to first responders, frontline and essential workers and the community.
Looking Ahead
With the COVID vaccine and restarting their health event schedule, it seems like the PHMT's plate is more than full. All the same, they are still looking to the future.
"So, we have the City Council funded program that's underway," said Falcon. "With this program, we go to one site per month to deliver HIV tests and link patients to Prep providers."
"I'm really excited about our diabetes prevention program," added Wilson. "The program targets people who are pre-diabetic. Our goal is to get them to lose weight, increase physical activity and get them to be healthier. The idea is to host weekly workshops and discuss eating healthier, and how to cook healthier meals."
"I'm [also] passionate about nutrition and diabetes because of my mother," said Solano. "She's a Type-2 diabetic and diabetes runs in my family."
A Personal Connection
Each member of the team went to school for Public Health. So, the PHMT has been a part of their plans from the beginning. However, Ms. Solano has another noteworthy connection to her work.
"After school, I worked for the NYC Department of Health doing vision screenings for children," said Solano (pictured below). "A lot of kids in [under served] neighborhoods were failing their screenings, whereas kids who were better off were passing them. So, I knew then that I wanted to continue to help the under served."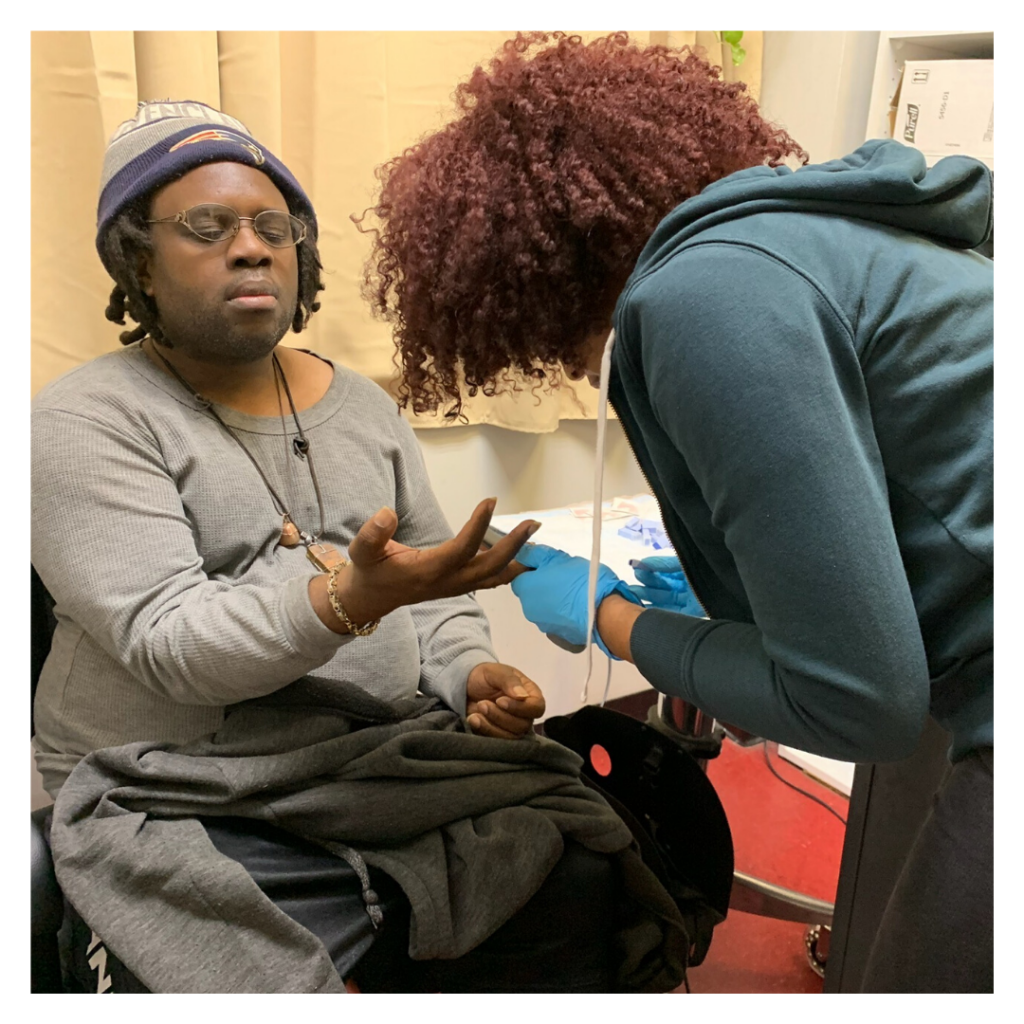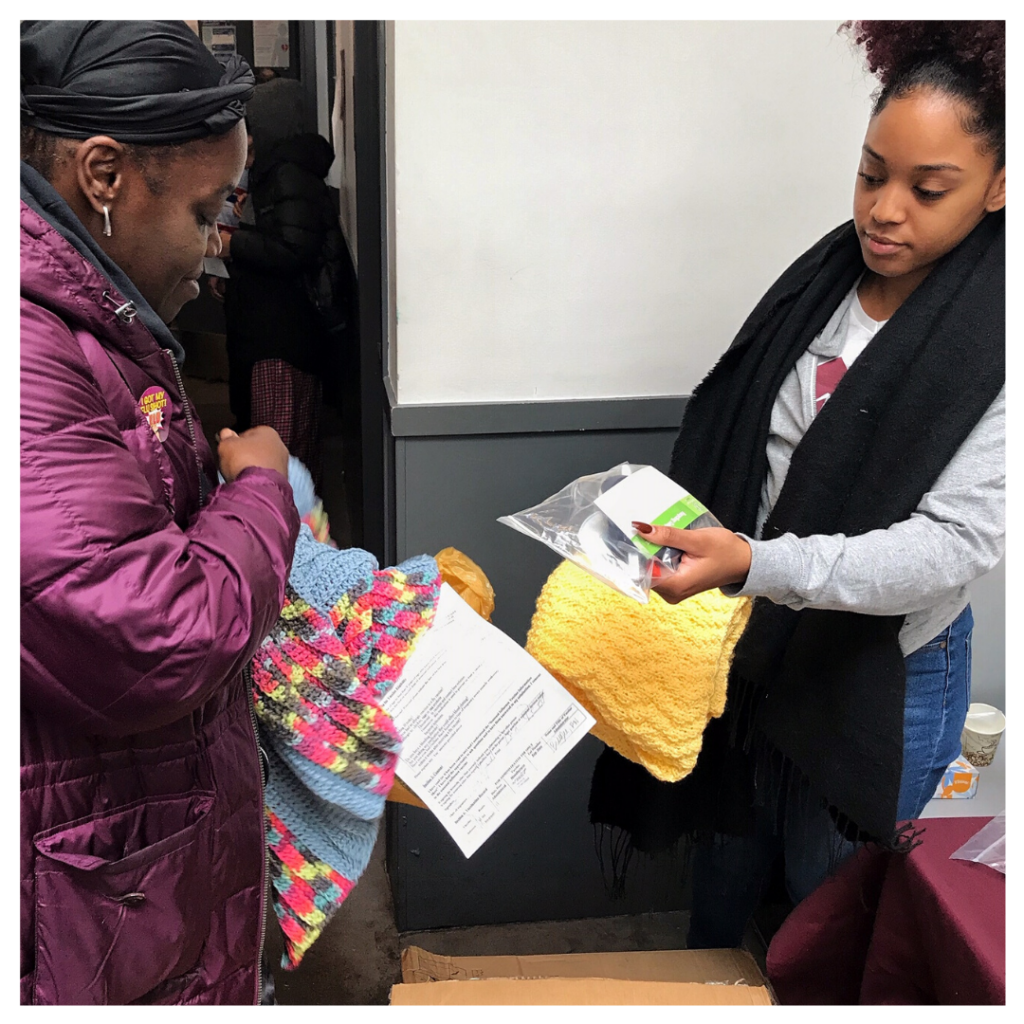 "I personally didn't grow up in the best of neighborhoods," she added. "So, I saw this firsthand. It influences [my work] a lot because, for instance, whenever I interact with the women at Susan's Place, they remind me of my mother; a lot of them are Hispanic and around the same age."
"There's one patient I always call to remind about her appointments," she continued. "Sometimes you want to keep things structured, but we're able to be comfortable with one another. She will vent to me, update me on her life. And at the same time, I remind her about her appointment, which she usually keeps. She was part of an earlier diabetes prevention program. I recently saw her at Susan's Place, and she looks completely different; so much healthier. It's very rewarding to hear good news like that."
More Than Middlemen
The PHMT provides an essential service to a population that demonstrably needs it. They ensure that potential patients are comfortable as well as knowledgeable and responsible about their health.
Remember, health care and homelessness are inextricably linked. We cannot hope to end the latter without making the former accessible and compassionate.
The effort and passion of the PHMT is indicative of that principle and we could not be happier to have each of them as part of the CFH family.