Kathryn Booth, Nurse Manager | Provider Profile
Kathryn Booth, Nurse Manager, has been managing the health center at 30th Street since its opening in October. In her interview, she talks about her why she does what she does, the people she works with and one issue she thinks deserves more attention.
Accessible, high-quality mental health care is a crucial tool that can help end a person's episode of homelessness. It's also one of the most overlooked, especially in comparison to food and housing.

Poor mental health can be a major reason why people not only become homeless, but also why they stay homeless. Moreover, did you know that homeless individuals in New York City suffer from mental illness at triple the rate of the general population?

At Care For the Homeless (CFH), we know it is critical for us to meet our patients' needs for mental health care. And the more people we treat, the more episodes of homelessness we can help end.
Increasing Access to Care
In October of 2019, we opened a brand-new health center within the 30th Street Men's Shelter and Assessment site in Manhattan–an intake points for men entering the NYC shelter system. The CFH health center provides multiple services to hundreds of men, mental health included.
Kathryn Booth, Nurse Manager
Kathryn Booth, Nurse Manager, has been leading the way at 30th Street since it opened.
In her role, Kathryn oversees administrative duties, works directly with several patients a day and coordinates tasks with her dedicated staff.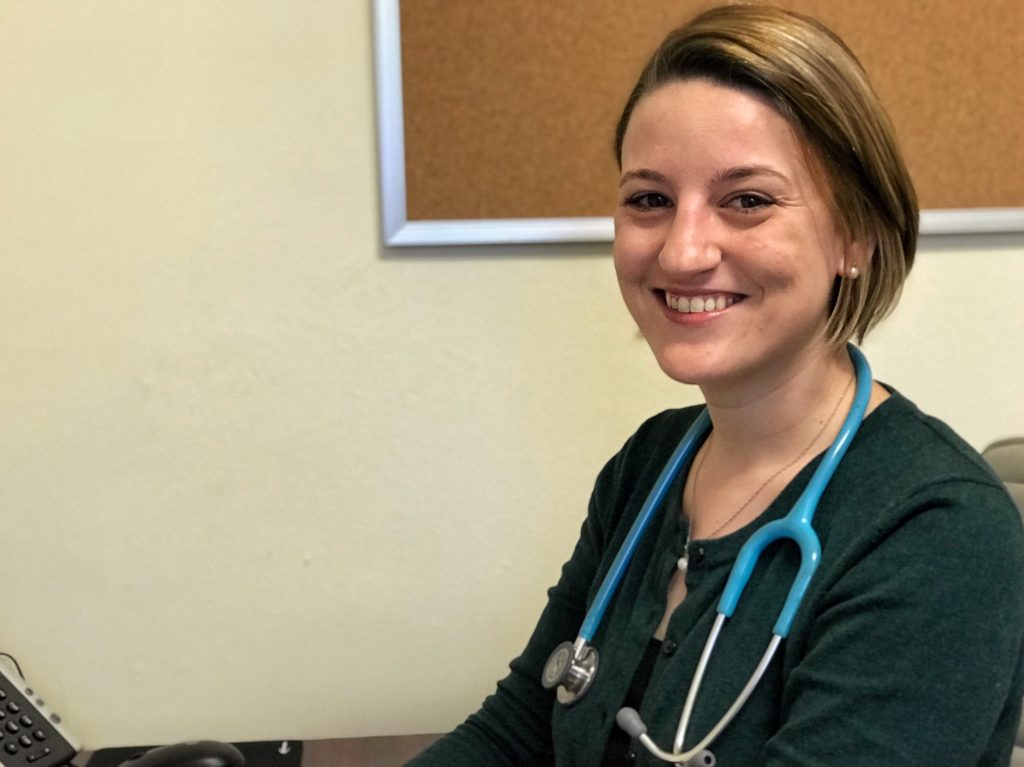 "It's part of why I love this role and organization," said Kathryn. "Nurse Manager's at traditional hospitals do a lot of administrative work and don't spend as much time with patients. Being [at CFH] allows me to take care of the administrative things and take care of patients. It helps keep your clinical tools sharp."
This drive to help others, has been a goal of Kathryn's from the start of her nursing career.
Giving Back
"I grew up with not a lot," Kathryn commented. "So, I wanted to give back to people who had struggled having access to things like my family sometimes did."
That desire to give back took the form of nursing. Kathryn graduated from Rush University's College of Nursing, before her ambitions led her to a practice on the island of St. Maarten in the Caribbean.
She worked for the island's medical university while her husband studied. And, predictive of her role at 30th Street, she took on a variety of responsibilities.
St. Maarten
"I taught medical students how to interact with patients," she reminisced. "I also managed the mobile clinics there. We would go out into the community and provide everything from blood pressure screenings to mammogram events. It was very similar to what we do here at CFH."
After two years on St. Maarten, Kathryn took her ambitions to New York City.
"When I came to NYC, I knew that I wanted to do something similar to what I had done in the Caribbean," said Kathryn. "St. Maarten was where I really fell in love with Public Health and helping vulnerable people in marginalized communities."
Care For the Homeless
"In February [2020] I'll have been here for 2-years," she commented. "It's been nothing but smooth sailing."
Kathryn spent her first year and a half with CFH at the Franklin Women's Assessment Center in the Bronx. Assessment centers are the first point of contact when someone decides they need homeless services. At Franklin, women are temporarily housed for about 3-weeks. Every woman undergoes a physical and mental health assessment upon entering the shelter. The process determines their needs, so that they are later placed in an appropriate general shelter.
This was a central part of Kathryn's responsibilities, while leading the health center team.
Franklin was also where Kathryn observed how significant the effects of mental illnesses were on the population.
Mental Illness
"As providers, we want to make sure our patients' diabetes or hypertension is in check," commented Kathryn. "But you can't do that or expect that if your patient is struggling with mental illness or medication adherence [for said mental illness]."
"Our society has gotten so much better at dealing with stigmas against substance use disorders, alcoholism and PTSD," she continued. "But mental illness still has a bad stigma against it. People don't want to talk about it. We need to take the stigma away, so that people view going to your therapist the same way they view going to see your physician."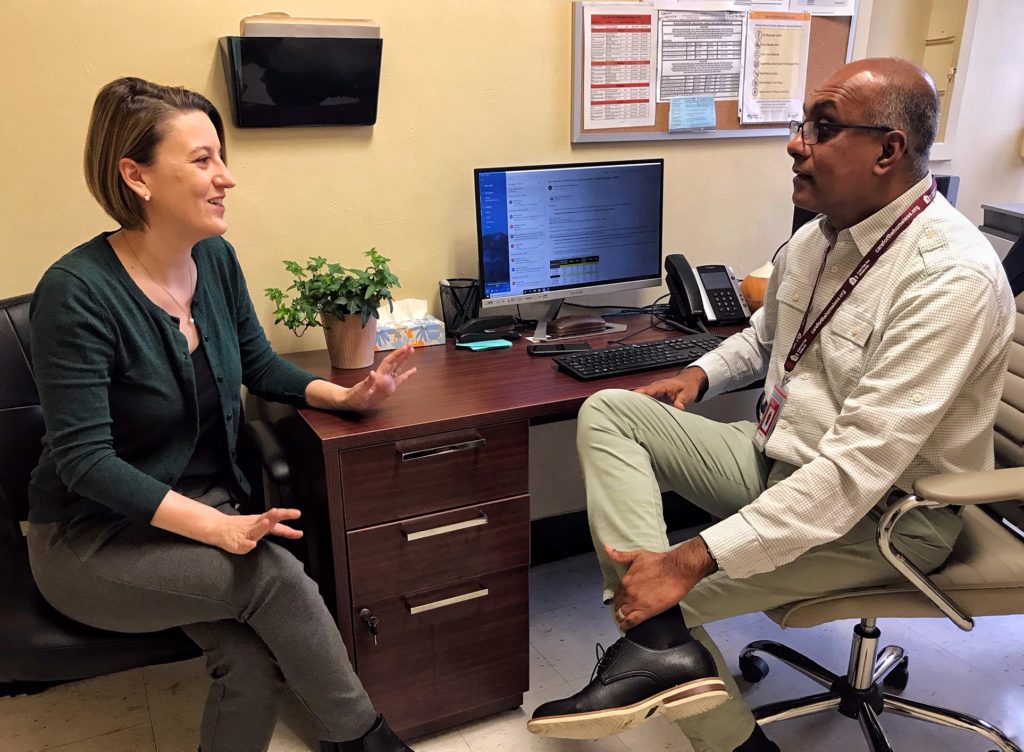 Lack of personal insight has been one of the most common threads Kathryn's observed while working with mental illness. Which boils down to an individual not understanding the nature of their mental illness.
"People don't know enough about their illnesses to understand how necessary treatment is," she continued. "If you don't know you're a person with bipolar disorder or schizophrenia, how do you know that taking medication will make you feel better?"

She recalled the story of one patient who had been suffering from substance use disorder as a result of her mental disorder. Thus, the patient found it difficult to keep up with the medications prescribed for her mental illness.
Every Story is Unique
Kathryn recalled the painful memory of having to administer Narcan when this patient overdosed. Narcan is a form of naloxone, a drug that counteracts the life-threatening effects of an opioid overdose.
"She was so embarrassed, and she cried," said Kathryn. "We had been working so hard with her, but she didn't understand that she needed her medication [to better manage her mental illness]."
Afterwards, the woman moved to another state to live with family. She returned to Franklin 6-months later after being displaced by a natural disaster. Unfortunately, she left the assessment center after just 3 days and hasn't been heard from since.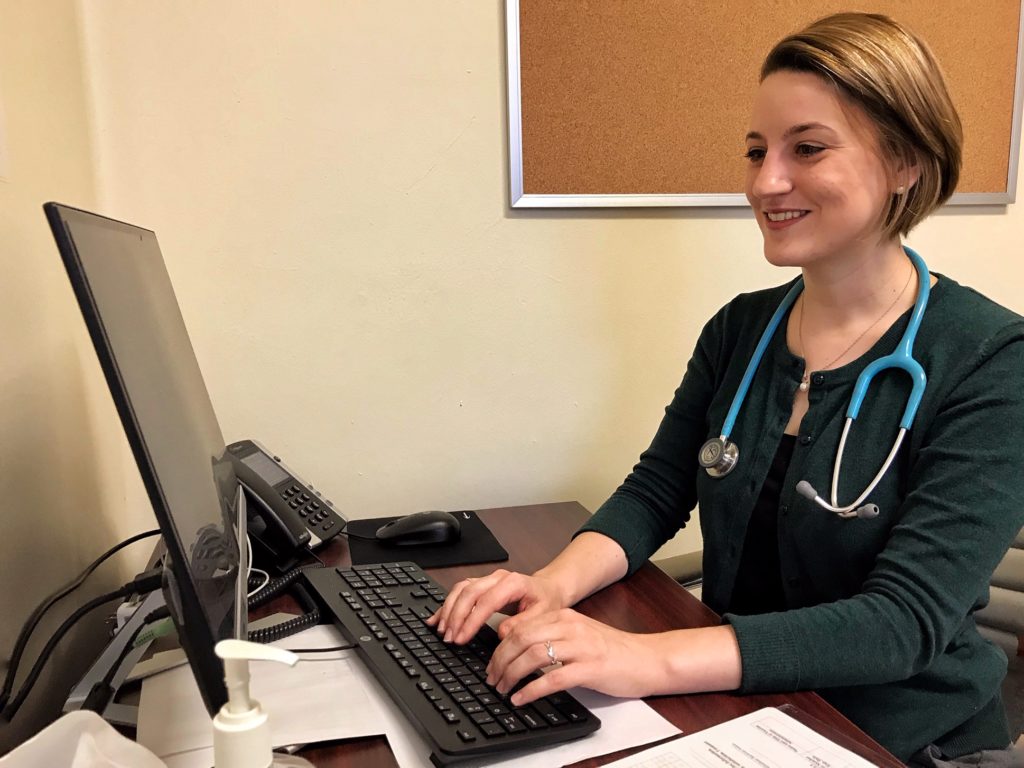 "It's unfortunate because people with mental health disorders can live highly functional lives if they take their medications every day," observed Kathryn. "It's when they can't that everything kind of falls apart."
Kathryn then recalled another one of her patients who is, as of their most recent meeting, confidently navigating the path to permanent housing.
"She had originally come to Franklin after escaping a domestic violence situation," Kathryn commented. "I remember seeing her 6-months later, after she'd been transferred to Susan's Place, the transitional shelter operated by CFH with an on-site health center. She was keeping up with her medications, back in school, had gotten braces and new glasses and looked so much happier. She also told me she was saving up for an apartment."
"We have a chance to help everyone, no matter their situation," said Kathryn, referring to both patients. "It's why we do what we do. It's why we're here every day."
The Health Center at 30th Street
Moving forward, Kathryn is excited to build up the 30th Street Health Center's reputation among the shelter residents and staff.
"Having a good relationship with the shelter staff has helped us be more efficient, effective, and it has helped improve the perception of CFH among residents," she commented. "The more patients we're able to see every day, the better."
What's more, the work being done at 30th Street is also contributing to our growing ambulatory care network. Facilities in this network help increase access to essential services.
An Ambulatory Care Network
They also function as part of an integrated system that, for example, allows access to vital health care information. For example, if a person needs to move from one location to another with a CFH health center, their medical information goes with them via our database. This negates the need for unnecessary or duplicate testing services, reducing health care costs.
"Developing a comprehensive ambulatory care network for homeless and unstably housed people in NYC as well as providing them with the same quality of care that a person who isn't homeless would receive, are two of our organization's key strategic goals," says CFH Executive Director, George Nashak. "And being the health care provider at the 30th Street Shelter and Assessment center, is a critical step towards these important goals."