In it Together | Jennifer's Journey
Raising two children on your own isn't easy. And it's even harder to do while homeless. But Jennifer H. isn't letting herself "get comfortable." Every day, she's "pushing" herself towards her ultimate goal.
Note: This interview was completed prior to the pandemic declaration.
Cars rush by above on the Van Wyck Expressway and Jackie Robinson Parkway. A few streets away, people move along at that famous New York City pace. Nestled on the edge of all this activity is the Briarwood Family Residence.
Briarwood
Briarwood is a temporary housing shelter for over 90 families experiencing homelessness. It is operated by The Salvation Army, a Care For the Homeless (CFH) non-profit partner.
Like most residences of its kind, Briarwood's number one goal is to help transition people from homelessness to permanent housing. To accomplish this goal, they employ a highly skilled social service team as well as host the health center operated by CFH.
Jennifer
One of the many mothers living with their children at Briarwood, is Jennifer H. She recently moved back to NYC after living in North Carolina for the past 11-years.
"I missed it here," said Jennifer. "There was a falling out with my mom and my sister before I moved. I also feel like there's more opportunity up here than where I was."
Dreams and Aspirations
"I just want to come up in the city," explained Jennifer.
Specifically, she wants to make name for herself in the food services industry.
"I love food, and not just to eat," she said. "I worked in a chicken plant for a long time. So, I'm interested in food safety and how it all comes together. It's my passion and I want to learn as much as I can."
Jennifer is working towards her goal by dedicating a lot of time to her Back to Work program. She recently completed a food handling class and is in route to receive a certificate in Food Protection. However, while these goals are important for her, she has two other reasons motivating her to succeed.
Sticking Together
"I'm not going to lie," said Jennifer. "My first two weeks [at Briarwood], I cried. Sometimes I feel like I'm alone, but I have my girls."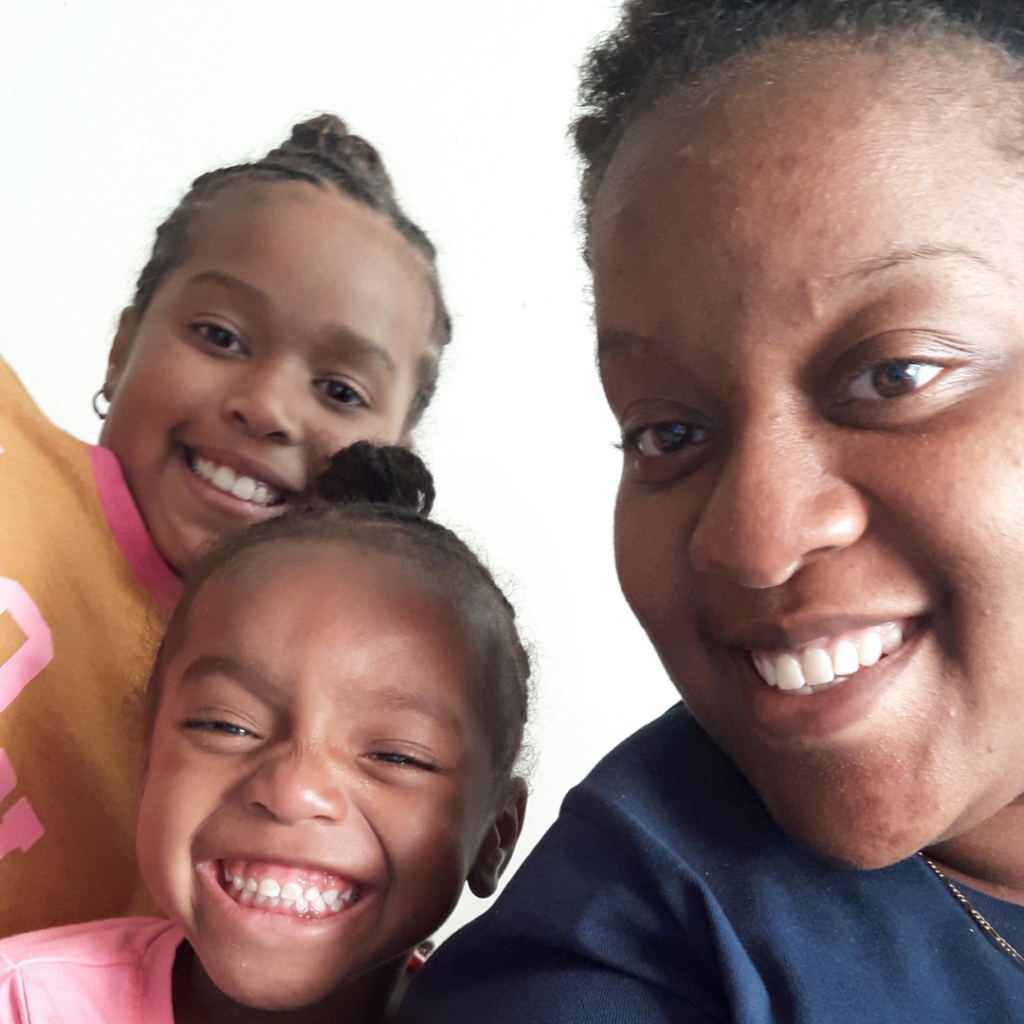 Elizabeth, 8, and Aliyah, 3, mean the world to Jennifer. And although the beginning of their new lives in NYC haven't been the easiest, they all find ways to lift each other's spirits.
"Elizabeth loves school all around, but loves reading the most. She's reading something different all the time," explained Jennifer. "Aliyah likes to be active and loves to talk. She's 3, going on 30."
"We have other family," Jennifer continued. "But when it boils down to it, it's just us three. We have to stick together."
And stick together they have. With the girls thriving in school and their mother on the path to employment, they're moving together towards their ultimate goal:
A Place of Their Own.
"I've had Elizabeth ask, 'When am I going to get my own room?'" said Jennifer. "So, I tell her, 'I'm working on it. You're going to get it.' I try to keep her hopes high as well as my own."
Because as well as the girls have been adapting to this new and unfamiliar life, there is a level of comfort that hasn't set in. And, according to Jennifer, she's all the better for it.
"I can't say it's stopped being scary," she explained. "I can't get comfortable. I tell myself I'm here for a reason and that I have to get it together. That's it."
The CFH Health Center
Jennifer knows that better things are waiting for her beyond Briarwood. However, that hasn't stopped her from taking advantage of the many services offered there. And one in particular that has had an immeasurable benefit on her well-being.
HS or hidradenitis suppurativa, has affected Jennifer for most of her life. It is an inflammatory skin condition that causes small bumps to appear on the skin. These bumps are often painful and have the potential to rupture.
Prior to coming to Briarwood, Jennifer was not on Medicaid. As a result, she had to go to the ER every time she had to receive treatment for her HS.
That all changed when she came to the CFH health center.
"At first, they told us everybody has to see the doctor at least one time," she explained. "But once I met Vlad [Taub, Nurse Practitioner], he was cool. So, I just kept coming back. He always greets me with open arms."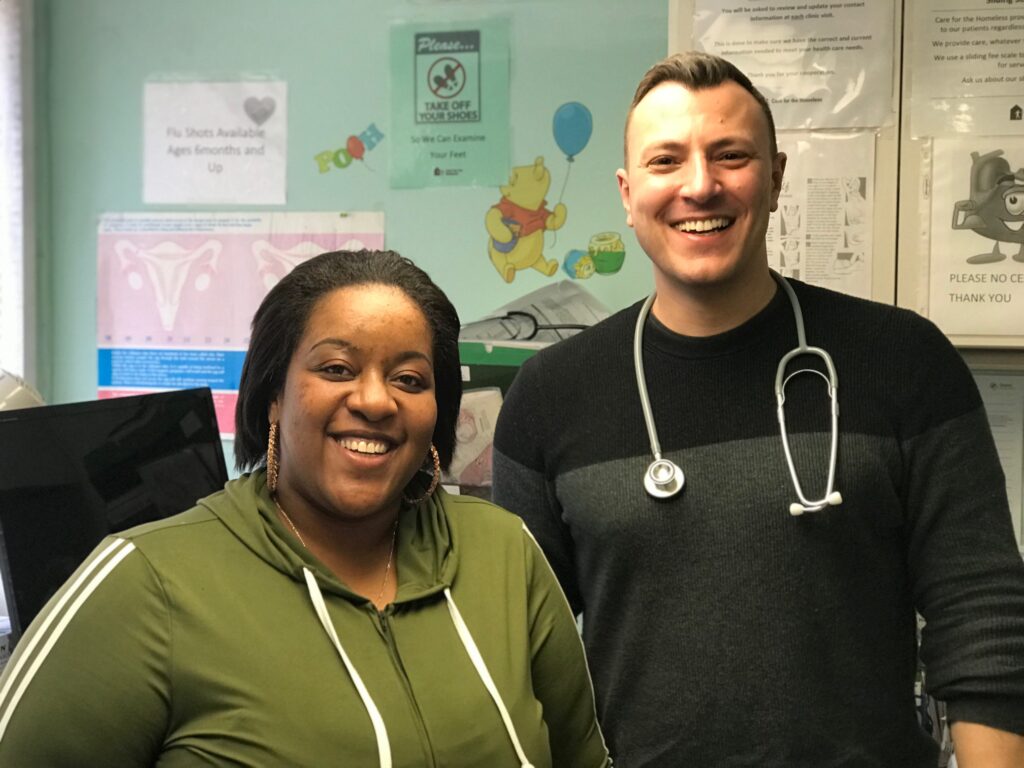 So, despite the fact that HS is still an issue for Jennifer, she feels that she is finally in a position to take control of her health instead of having it control her.
Taking Control
"The people here helped me get on Medicaid," she explained. "Coming here and getting checked out, and then being able to go other places for help has been so much better than going to the ER every time I have a problem. There's no cure, but now I'm on antibiotics and it's finally getting taken care of. It's a huge weight off my shoulders."
"My chances to get out of this situation would be horrible if I didn't have access to the health center here," Jennifer continued. "I'd have to have an awesome job just to keep up with the medical bills. So, everything that I've been given access to here has been a plus. It's been great for my girls too."
The Equalizer
Anybody can become homeless. Misinformed and harmful stigmas would have you believe that homelessness is a choice or the result of one bad decisions. This is simply not true.
The reasons for why a person becomes homeless are always varied and complex. They also don't exclusively apply to one kind of person.
George Nashak, our President and CEO, put it best when he stated, "If someone says, 'This is the one thing to do to end homelessness,' stop listening. Homelessness is a multi-factorial problem and requires a sophisticated toolbox with multiple approaches. It also requires intelligent management that matches the solutions in the tool box to an individual's or family's specific situation.
"CFH approaches our work in this fashion," he continued. "We have expertise in both health care and homeless services. We take an approach that looks at the whole person. We also work from a team-based approach with primary physicians, psychiatrists, nurses and other team members that address all of a person's issues in an integrated way."
That is why Care For the Homeless continues to deliver high quality health care to homeless New Yorkers. Because with proper, accessible services and better policies, we can end homelessness.