Addressing Traumas
With most of her time spent working at the health center within the Franklin Women's Assessment Center, Dr. Erin Buettin must not only delivers excellent care, but address the traumas facing the vulnerable women she serves.
The Franklin Women's Assessment Center sits along the top of a hill in the Morrisania neighborhood of the Bronx. It is a massive brick building, bearing no mark to indicate its purpose. Beyond its ordinary walls though, hundreds of women each year are taking extraordinary steps towards something better for themselves.
The Start
Assessment centers are the first point of contact when an individual needs homeless services. For women in New York City, this process begins at Franklin where Care For the Homeless (CFH) operates the on-site health center.
All services provided at Franklin are essential, but the health services are of special significance.
Every woman who comes through the shelter must first undergo a physical and mental health assessment. This process determines their needs so that, after their average 3-week stay, they can be placed in a shelter that is equipped to meet their specific needs.
Moreover, assessing and determining these needs is a delicate process. Because Franklin is the first point of contact for women experiencing homelessness, their traumas are often recent.
So, the CFH team on-site needs to show empathy, compassion, and understanding to the women they serve in addition to thoroughly assessing their health needs. It may sound complex, but the providers at Franklin consistently excel at helping those they serve feel cared for and respected. One of those exceptional providers is Dr. Erin Buettin.
Who is Dr. Erin Buettin?
Dr. Erin Buettin hails from Charles Town, West Virginia. It's a small town in the eastern panhandle with only about 30,000 residents. However, her time there sowed the seeds of her desire to help others.
"My dad was mayor of our little town," said Dr. Buettin. "He was very into civil rights and was in the NAACP. I helped them with the buildings in the historical section for the African-American Heritage Group, I was on their committee, and I helped them raise money."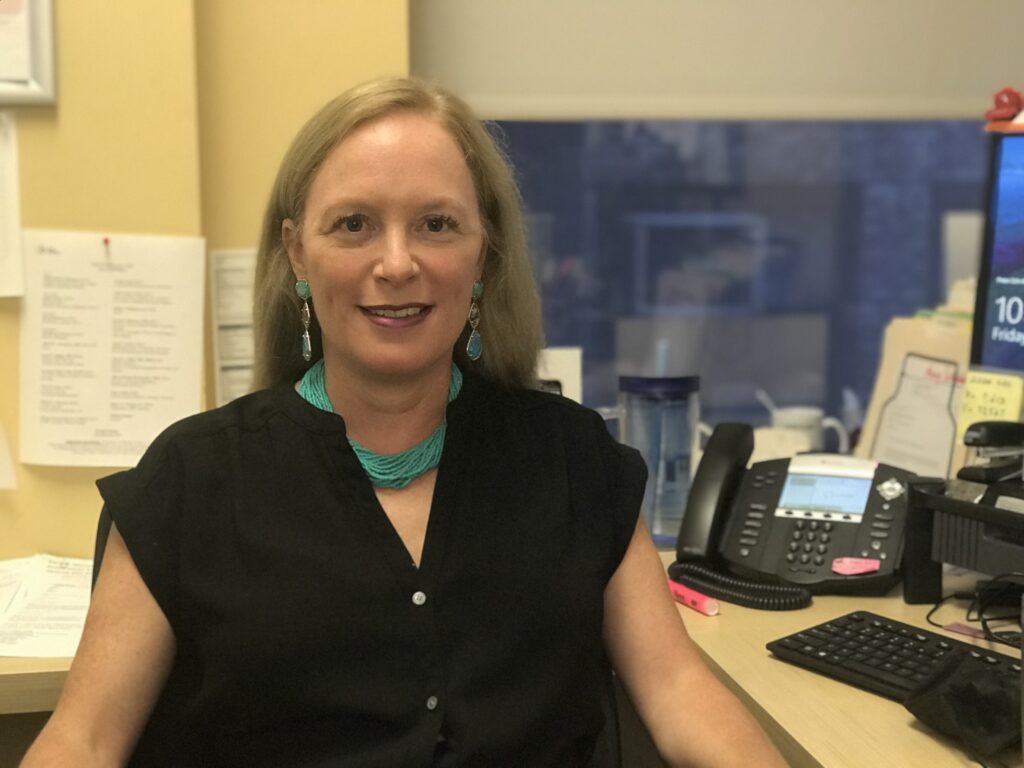 Dr. Buettin followed her passion for politics to Hollins University where she received her degree in Political Science. After graduation, she worked for the Democratic National Committee and her congressman, Robert E. Wise Jr.
However, after Wise was elected governor of West Virginia in 2001, Dr. Buettin felt like a change was in order.
"I felt like I wasn't doing enough working on Capitol Hill," she recounted. "I'd taken a lot of chemistry classes in college and wanted to see if I still liked medicine. So, I took an EMT course and was like, 'This is it.'"
Dr. Buettin began her medical journey at the University of the District of Columbia. After taking her MCAT, she attended and graduated from the West Virginia School of Osteopathic Medicine. She spent the next several years working as a physician before chance brought her to New York City and Care For the Homeless.
Why CFH?
"After I took time off to have children, I knew I wanted to do something in the community," said Dr. Buettin. "And I said, 'I want to get out in the field where I can spend time with patients.'"
"[CFH] was a good fit for me because you get to spend time with patients," she continued. "[The job is] about meeting people where they are and seeing what their needs are."
Working at Franklin
Like every provider we have spoken to for this series, Dr. Buettin has found that the most important aspect of her job is cultivating trust.
"I try to just turn the people I work with around and give them as much help at that point as I can," observed Dr. Buettin. "Sometimes it seems like it's not all medicine because it's really also about trying to get to know them, so that they trust you enough to tell you where they are [physically and mentally]."
Women from all walks of life come to Franklin and they each have a different story. For Dr. Buettin and her colleagues at Franklin, it's all about listening to those stories and addressing those traumas.
"The traumas are so [significant]," Dr. Buettin observed. "I've seen people who've been sexually assaulted, and sex trafficked. One woman I saw was trafficked at age 5. So, the majority of the time is spent [with the women] talking."
Of course, addressing the emotional side of these traumas is essential. However, Dr. Buettin and her colleagues excel just as much at treating the physical side.
"I met a woman that had a huge breast mass sticking out under her tank top," Dr. Buettin recounted. "So, we were able to call and get her cancer care right away."
"I also met a woman who was a bilateral amputee," Dr. Buettin continued. "She was an above the knee amputee for, I think, diabetes. Her prosthesis was broken, and her foot was at a 90-degree angle because it fell off. She was walking uncomfortably, trying to use a wheeled walker with one foot. So, I figured out a way to get her a new prosthesis. And that was a game changer."
It Takes a Team
Ask Dr. Buettin though, and these approaches to medicine are one and the same. One unable to be effective without the other. Moreover, she was also quick to acknowledge that it takes more than one person, more than one team for that matter, to adequately treat the whole person.
"It doesn't just have to do with me," observed Dr. Buettin. "It has to do with the support staff too. So, when someone comes in and they're upset and they're yelling because they're having a terrible day, Latonya at the front is able to say, calmly, 'Look, what happened to you today? Just tell me what can I do to help you? There must be something going on.'"
"So, that's also trauma-informed care," she continued. "People that understand. There's something else there instead of lashing out back, which is what the women are used to on the street. Someone is trying to meet them and trying to open that door."
Learn More About the Traumas of Homelessness
Hopes
And for the foreseeable future, all Dr. Erin Buettin wants is to continue holding that door open.
"I absolutely love this job," said Dr. Buettin. "I love that one-on-one contact. I don't see myself going in a different direction in any way. I don't see myself going to private practice. I don't see myself going work in a hospital. I really love this community."
"My hope for my future is to always feel that connection to the people."
Dr. Erin Buettin is yet another shining example of what it means to deliver high quality care to people experiencing homelessness. Please join us in thanking Dr. Buettin and her outstanding colleagues for all that they do.
Support Solutions
With the colder months upon us, our homeless neighbors need the kind of services Erin delivers now more than ever. You can join her right now and become a part of the CFH solutions to homelessness.
Click below to make a gift. All amounts are helpful.