They are Not Their Status
Danielle Durham, Recreation Coordinator, 52nd Street Women's Center, discusses her work and how she pushes everyday to correct the stigmas of homelessness.
"Shelter in place."
"Stay 6-feet apart."
These instructions have, for most, been easy to follow. However, the same cannot be said for New York City's homeless population.
Coronavirus' Effect on Homeless New Yorkers
From the beginning, homeless New Yorkers have been more vulnerable to contracting the virus. This is due to the populations' high rate of chronic and co-morbid medical conditions, living and eating in heavily congested areas, and a lack of access to adequate hygiene facilities.
"We've heard many discuss getting things back to 'normal,'" says CFH President and CEO, George Nashak. "Unfortunately, 'normal' wasn't very good. We need to do better."
And our shelter staff members among the many heroes leading that movement, even with everything that is going on.
One of those staff members is Danielle Durham.
"We're in isolation too," she commented. "But at the end of the day, we're still here to help people. Our operations don't stop."
Danielle Durham, Recreation Coordinator
Danielle is the Recreation Coordinator at the 52nd Street Women's Center, but her role there extends far beyond her job description.
"I'm Recreation Coordinator plus, plus, plus," she said.
Case in point, when we reached out to Danielle, she was in a waiting room, accompanying one of her clients to a physical.
"She's moving out soon," Danielle reported. "Even though the pandemic has displaced us1 and done so many things, the ladies still have a mindset of doing better. They're all adamant about doing what they're supposed to do, to ensure they're never [homeless] again."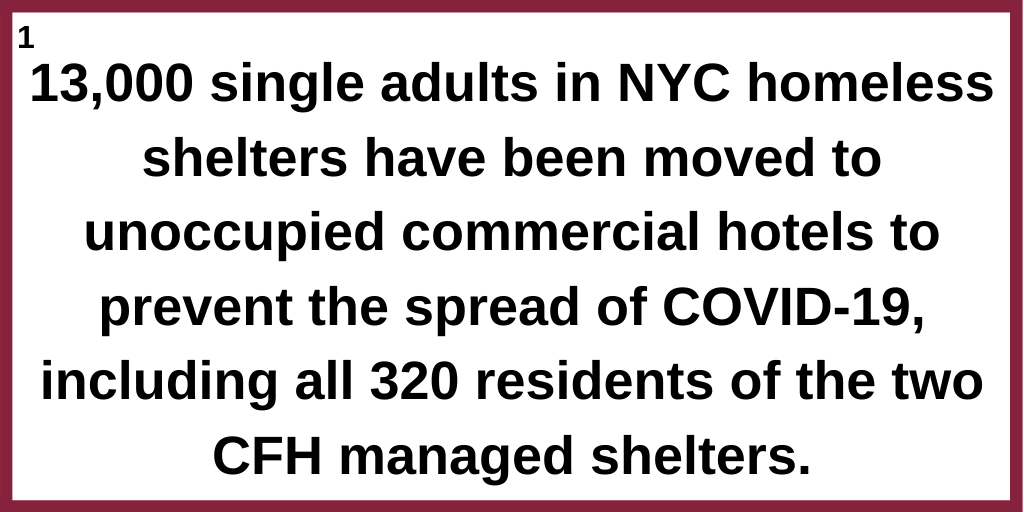 Humble Beginnings
This desire to help others has always influenced Danielle's career path. Prior to working at 52nd Street, she worked as a Direct Support Professional at Heaven's Hand in Brooklyn, NY. The non-profit supports individuals 18 and up with mental health disabilities.
"I go above and beyond because I know how rigorous and heartbreaking it can be when you need help and the people you believe are your outlets, aren't."
And that's no exaggeration. At 23, Danielle found herself homeless.
"Being in that type of environment," she explained. "It ignited something in me to be that person in whatever arena I'm in. The one that's there to help. To make the difference and be the change."
How to Be the Change
Danielle brings this energy with her to the residents of 52nd Street every day.
"I go in with an open mind," she commented. "When I walk in [through the front doors], it's no longer about me, it's about the people I serve."
Many times, people experiencing homelessness feel invisible. They feel as if their troubles and desires are of no consequence to the rest of the world. So, often, simply hearing them out can have a significant positive effect. Danielle has worked this into her everyday approach at 52nd Street.
A Listening Ear
"They already feel like they have nothing," Danielle explained. "So, we can be active listeners and, hopefully, [help] find a solution. And if it's something that I can't do, I direct them to someone who can. I'm not going to try and be a psychiatrist because I'm not."
"Empathy is really important," Danielle continued. "Slow conversations. Open atmosphere when [clients] come to me. Nothing is off limits."
Success
Success in Danielle's environment is a spectrum. There are simple, small victories and big, life-changing ones.
"It's just seeing a difference," Danielle said. "If I only sat with one person that day and after leaving, they felt helped or that they had a resource they could go to, that would be enough. And, of course, when residents leave the shelter [for housing] and don't come back, that's success as well."
Seeing Through the Stigma
All victories, big and small, are dependent upon dismantling the various stigmas against homelessness. Danielle does this at work and in her free time.
"I don't see a homeless person," she explained. "I see a woman who wants to get her life together, a mother who things didn't work out for, but she wants to do better."
"I always look at them, not for their status or situation, but for who they are."
Danielle Durham continues her work in her free time through Operation Make Em' Smile. She created this outreach organization to lend a helping hand and uplift those who are homeless and in need.
"Last year, during Christmas time, I brought my team to 52nd Street and gave [the women] a spa day," she said.
An Ambassador of Empathy
Danielle's efforts and values are indicative of the CFH shelter staff at both2 52nd Street and Susan's Place. Her everyday goal to show compassion and empathy is an attitude we can all learn from. Especially on the journey to end homelessness.