From Homelessness to Housing | 5 Stories
The ultimate goal of any individual who comes to a homeless shelter is to achieve permanent housing. These five women did just that.
The ultimate goal of any individual who comes to a homeless shelter is to achieve permanent housing. Below, we have curated five stories of women* who did just that.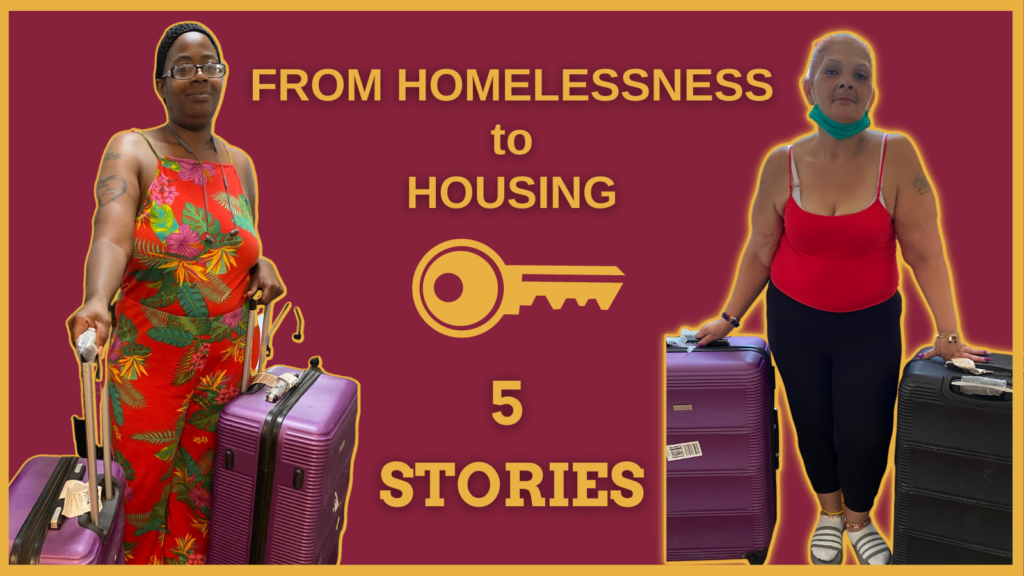 Mrs. U
Mrs. U overcame her substance use disorder 16-years ago and has maintained sobriety ever since. She went on to work in a substance use disorder program. Unfortunately, after a decade of service, she lost her job this past year along with her home. So, at the age of 63, she came to Susan's Place.
Mrs. U arrived at Susan's Place determined to do everything in her power to continue maintaining her health and achieve stable housing, again.
At Susan's Place, she accessed our on-site, high-quality medical and behavioral health care services, social service staff, and housing specialists. All of whom helped her secure and move into her own one-bedroom apartment.
In addition, we provided her with a move-out kit. This included pots, utensils, plates, sheets, towels, a mop, and a broom to get her started in her new apartment.
Mrs. U still keeps in touch with the staff at Susan's Place. She says she is incredibly grateful for their support and assistance, which helped her stay hopeful and focused on her goal, "even on some of her really bad days."
Adela
Adela arrived at the 52nd Street Women's Center this year, at the age of 51. She had recently lost her factory job after suffering a leg injury. Later, as a result, she lost her home too.
Adela worked closely with the Center's housing specialists to secure a new home. During that time, she worked diligently on her own to collect and provide all required documentation for CityFHEPS independent housing.
After 11 months in shelter, she proudly signed a lease for a one-bedroom apartment and moved in together with her dog. Her move-out kit included pots, pans, towels, and a blanket.
Ms. E
Ms. E came to Susan's Place after fleeing domestic violence at the hands of her partner. Earlier in her life, she also sustained a traumatic brain injury.
Fortunately, after working with the health care providers and social workers at Susan's Place, she was able to achieve permanent housing. She moved into a studio apartment in August of this year. A move out kit of pots, kitchen utensils, and blankets accompanied her.
Domestic violence is a leading cause of homelessness among women and families. To learn more about this important issue, click here.
Ms. P
Ms. P was born in the Dominican Republic but immigrated to the United States when she was just 3-years old. Up until the beginning of 2021, she shared an apartment with a friend. Unfortunately, the two had a falling out and Ms. P became homeless.
So, in January of 2021, Ms. P arrived at the 52nd Street Women's Center. She was 32-years old.
During her stay, she maintained full-time employment and worked rigorously to find a permanent home. Ms. P went above and beyond in this regard, going out on her own to search for an apartment.
Finally, after 7-months, Ms. P achieved permanent housing and moved in to her own 1-bedtoom apartment. A move out kit with pots, pans, linens, towels, and a comforter joined her.
Housing placement is a complex, but essential process. To learn more about it and the amazing people that make it happen, click here.
Ms. O
Ms. O lived in Puerto Rico with her mother for the majority of her life. Unfortunately, her mother passed away and Ms. O fell into a deep depression. This culminated in the loss of her home.
It was at this time that she emigrated to New York City. She was 55.
Ms. O received psychiatric care at Susan's Place in addition to the shelter's many other services. Finally, in the summer of this year, she moved into supportive housing. A kit of pots, kitchen utensils, towels, and washcloths went with her.
Ms. O is passionate about painting and writing and aspires to become an author.
A Few of Many
We have the tools at our disposal to end homelessness right now. These five stories are just a few of many. However, if we are to add more, we need to work together.
You and your support are just as important as the mental health services Ms. O received or the behavioral health services Mrs. U received.
If you make a gift today (of any amount) you can take pride in knowing that your generosity is helping homeless New Yorkers achieve permanent housing and get back on their feet.
A Word of Thanks
For each of these stories, the move-out kits were made possible by the Judith C. White Foundation. We thank them for their kindness and help for these and many more women this year, restoring their independence.
*None of the women profiled are pictured in any of the photographs present here.