Breaking Down Barriers
Everyone deserves health care, regardless of their ability to pay. Explore below to see just how much people can accomplish with the proper care.
Disclaimer: Names of patients are kept confidential, using only initials. However, first names may be used in the event the individual gives their consent.
Breaking Down Barriers
Increasing access to health care means breaking down barriers. One of the major barriers to care for individuals experiencing homelessness, is health insurance.
This special series of stories covers the impact of comprehensive care, including coverage for prescriptions that are integral to successful treatment.
The individuals in these stories are resilient and inspiring. And, you'll see just how much someone can accomplish with barrier-free access to proper care.
Hector
The Kingsbridge underpass is just another tunnel for many people. For Hector (37), it was home. Hector experienced street homelessness for several years. During that time, he also suffered from opiate use disorder and depression. Dr. Andrea Littleton, a CFH provider, met Hector in the underpass while he was using. He didn't have insurance but was interested in starting buprenorphine/naloxone. Dr. Littleton and her team were able to begin his medication regimen and get him a room.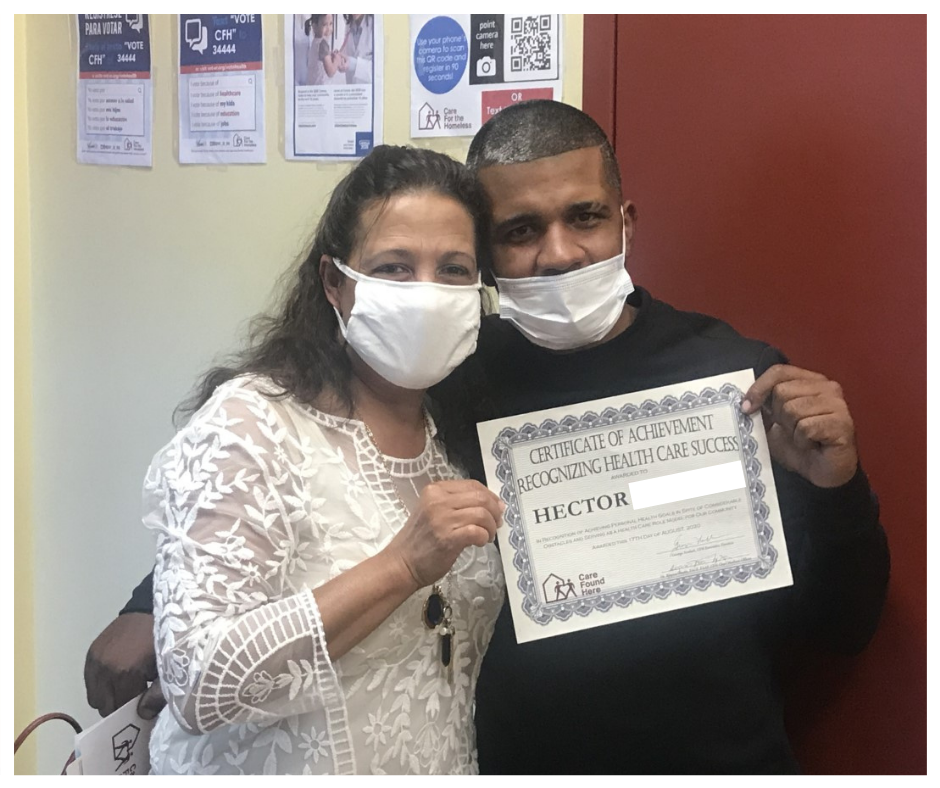 Today, Hector's life is back on track. He still lives in a shelter but is working for Uber Eats. Recently, Hector's mother paid him a visit at the CFH health center where he receives care. "She came and thanked us because 'she has her Hector back,'" said Dr. Littleton.
Story submitted by Dr. Andrea Littleton
J.C.R.
J.C.R. is 59 years old and lives with both bipolar and generalized anxiety disorders. He first began treatment with CFH in February of 2019. In the summer of that year, he lost his job and his home. Both of which contributed to his worsening condition, as did visits to the emergency room, through the end of the summer of 2019. Under the care of a CFH psychiatric nurse practitioner, he responded to medications that worked for him. With these medications and psychotherapy, he gradually gained control over his anxiety and depression. Finally, after a year of living in different men's shelters, he found a job and now rents a room for himself.
J.C.R. is still employed today and is looking forward to a brighter future.
Story submitted by Asmun Amazigh, PMHNP-BC
R.G.
R.G. and her two children (8 and 9) came to the Jamaica Family Residence after seeking political asylum due to violence in their home country of Colombia. Both children are asthmatic and needed their inhalers refilled. Unfortunately, because they didn't have insurance, this simple task became difficult. Thankfully, the resources at the CFH health center located within the residence allowed R.G. to get the inhalers refilled regardless of her ability to pay.
"I was so happy to help this family and resolve one worry from their list," said CFH NP, Nora Lueth.
R.G. and her children are currently housed in the community and continue to receive care at a local CFH open access site.
Story submitted by CFH Nurse Practitioner, Nora Lueth
Alina
Alina has experienced a life of trauma and has suffered abuse since she was 7-years old. Today, she works as a sex street worker, spending nights in the backs of trucks and with friends. Recently, she came to Dr. Andrea Littleton at the Living Room drop-in facility to begin using Prep, preventative medicine to avoid getting HIV. She has also agreed to begin treatment for Hepatitis C, which she contracted during her work. These treatments are essential and help keep Alina alive, and as healthy as possible.
Story submitted by Dr. Andrea Littleton
Breaking Down Barriers is an ongoing series of stories focusing on the incredible feats people can accomplish when they have access to proper care.