Why Philip Cares
Philip Malebranche is a member of the Care For the Homeless (CFH) Consumer Advisory Board and sits on the CFH Board of Directors.
Philip Malebranche is a member of the Care For the Homeless (CFH) Consumer Advisory Board and sits on the CFH Board of Directors. He is also a writer and passionate advocate for people experiencing homelessness.
Q: How did you hear/learn about Care For the Homeless?
A: I heard about CFH in 2011, when I was using the services of St. John's Bread & Life soup kitchen in Brooklyn. I was invited to participate in a focus group. And during that focus group, I was told about the Consumer Advisory Board (CAB), and I was invited to become a member.
Q: Why did you choose Care For the Homeless to receive your support?
A: I decided to be involved with CFH because of the work that it does with people experiencing homelessness. As one of those persons experiencing homelessness, it seemed a ready fit to be involved in the mission of the organization.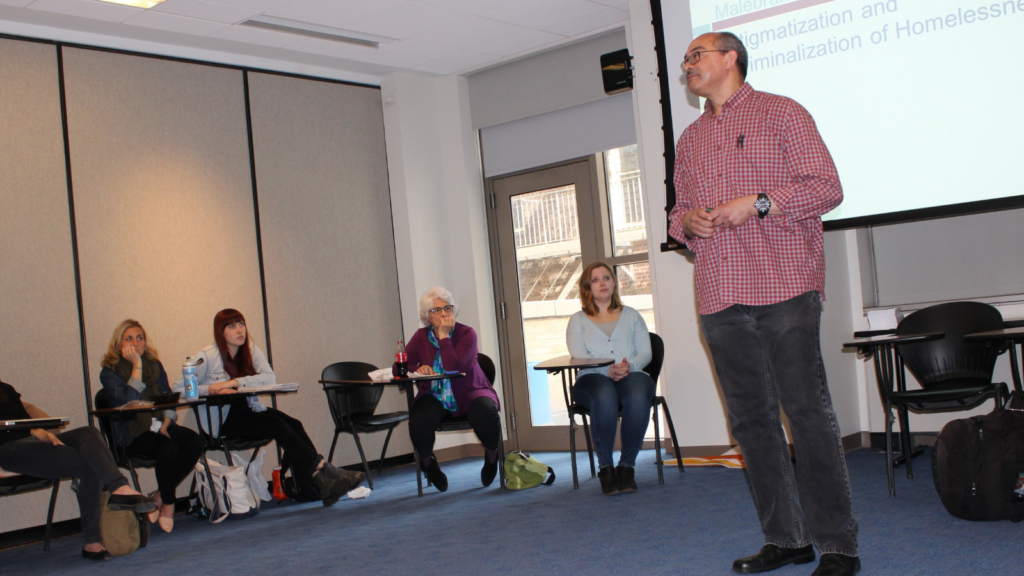 I had an opportunity to be involved in advocacy, and I was happy to do that because it gave me an opportunity to advocate for myself – to learn what it meant to advocate for myself and for others. And that too, fell into my personal interest as well as my college background.
Having a degree in sociology, I already had an interest in social problems and involvement with the organization was a space in which I could learn about policy issues.
CFH gave me a place to learn about advocacy, about lobbying, and about how those activities would help me. I feel like I'm defending myself in my situation.
Philip's Advocacy
As a member of the CAB, Philip uses his personal experiences with homelessness to guide CFH's practices. In addition, he is a passionate advocate and uses his proficiencies in writing and public speaking to support ideas and programs he and CFH believe in.
Philip: As a writer, I have written about Home Stability Support, the statewide rental assistance program. I don't know that's been completely successful. I don't know if it's been totally passed, but there seems to be movement on that. And I'm pleased that I had the experience of learning about it and writing something about it. It was a creative essay and having it disseminated in some way was very fulfilling.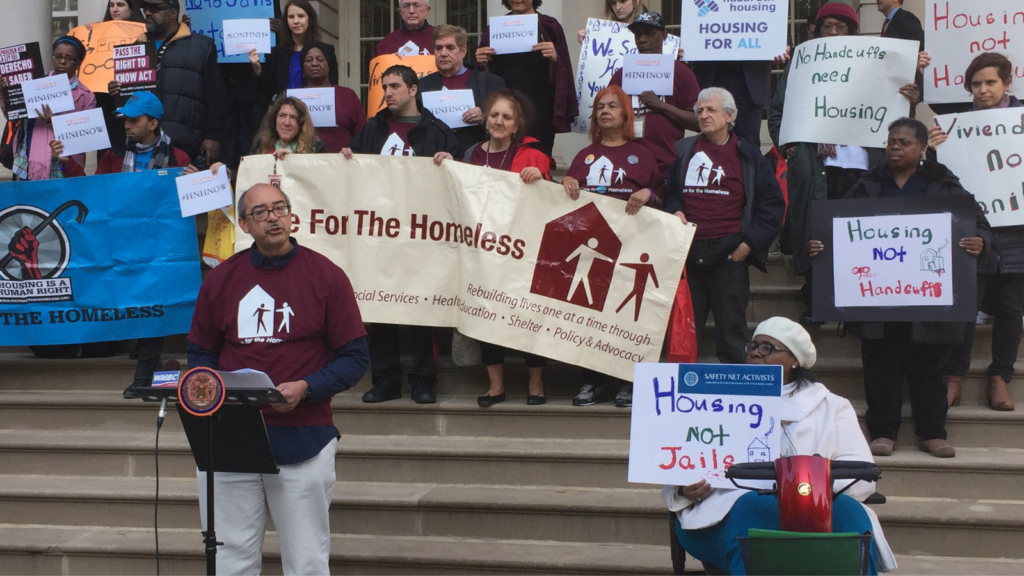 I also recall the very first public speaking engagement that I had in 2013, that was meaningful for me. It was a self-fulfilling experience. However, I saw what my weaknesses were as a speaker and what worked; hopefully I have worked to make improvements.
But those are the sorts of things that give me a sense of satisfaction in that… is learning about some legislation, finding a way to write about it and which for me is my preferred platform, means, of communicating and trying to see some movement on it.
Q: Why do you Care?
A: Care For the Homeless' mission is rather unique, it seems to me – offering quality healthcare to people experiencing homelessness, along with advocacy and some human services.
The specialty in offering healthcare to this group is important because the poor are by and large neglected and disrespected. So, the organization is praiseworthy because it endeavors to offer dignity to people who are using the services. The experience of homelessness is one in which dignity is withheld. The organization allows us to have the experience of dignity and gives us a space for expression and giving our opinions and feelings and reactions about the services and the problems that we face.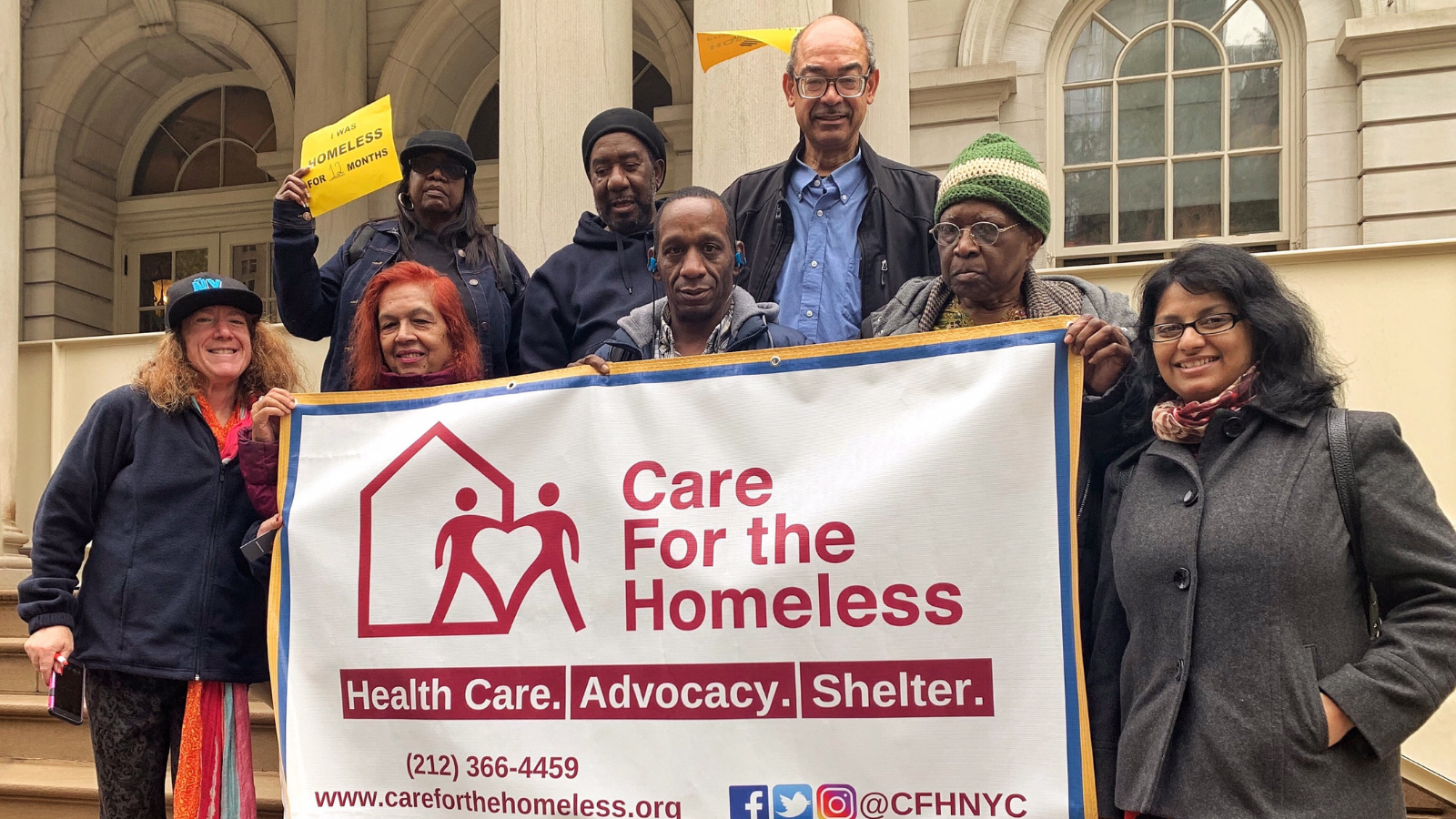 Care For the Homeless is a valuable area or arena for us because of the respect and dignity that we sense. And that has continued in my personal situation with an invitation to become a member of the Board of Directors.
And it consolidates, in my view, the attitude of the organization to include the experiences, knowledge, and wisdom of people that they serve. So that makes Care For the Homeless, a valuable place for me. And I'm pleased to be able to make contributions as I'm able.
More About Philip:
Philip earned his bachelor's degree in Sociology from Geneva College in Pennsylvania. He is also fluent in French, having lived and studied abroad in Paris, France.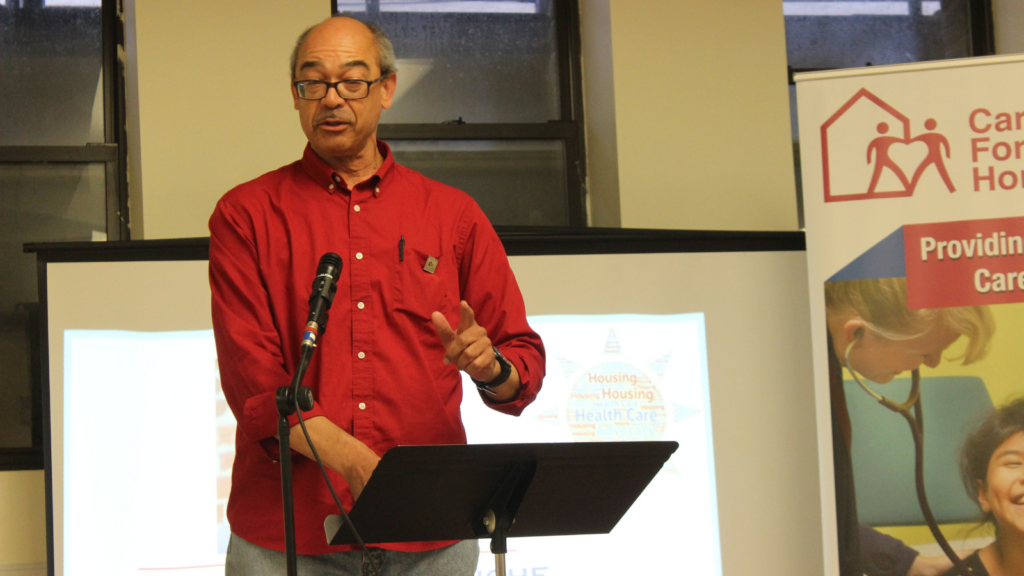 Since becoming involved with CFH, Philip has spoken publicly numerous times in support of various ideas and programs related to our mission. You can view some of them below.