"TALE OF TWO HOUSING MARKETS"
The Coalition for the Homeless released a report, The Tale of Two Housing Markets, that examines how Mayor De Blasio's housing plan is fueling homelessness, rather than reducing it. The report looks at the current housing market and the availability of truly affordable units for those that need them the most. Notably, from 1999 to 2017 there has been a loss of 1 million apartments renting for less than $800 a month. On the other hand, the availability of high rent units has increased substantially. As the report outlines, even with city funded rent supplements (known as CityFHEPS), it is extremely difficult for extremely low-income households to find apartments they can afford when the vacancy rate for the CityFHEPS rent levels is a mere 1.82 percent for a studio and 2.96 percent for a three-bedroom apartment. Certainly, a bleak landscape when we have 59,000 people living in shelter in NYC.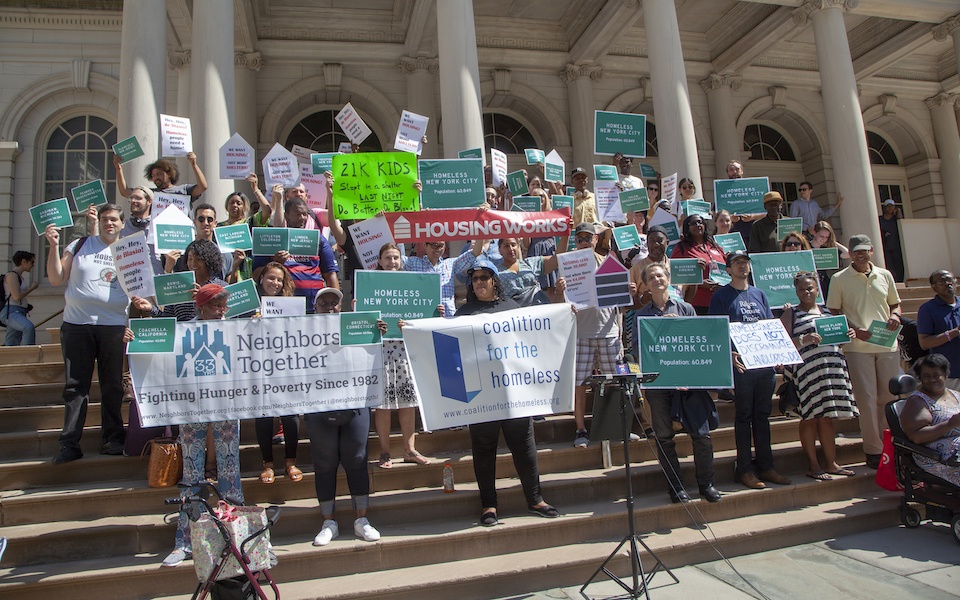 However, Mayor De Blasio has the tools to increase the number of affordable units available to extremely low-income households. For the last year and a half, leading advocates have tirelessly asked Mayor De Blasio to set aside 24,000 units of affordable housing specifically for people experiencing homelessness in his Housing New York 2.0 plan, with 24,000 of those units being new construction, and 6,000 units of preservation, for a total of 30,000 units or 10% of his overall plan. Last week, the "House Our Future NY" campaign held a rally at City Hall to call on the Mayor to address the housing crisis and put in to action a plan that would significantly reduce the number of households living in shelter. We will continue to advocate for our homeless neighbors.
Join the House Our Future Campaign here and stay up to date on ways to get involved.
Click Here to Download September 2019 Policy Matters Newsletter