Meet the CFH Peer Outreach Specialists
Peer Outreach Specialists are a core part of our services. But what exactly do they do and why are they so essential? Read more to find out!
Peer outreach specialists are core components of Care For the Homeless' (CFH) health care delivery practices. Specifically, they ensure that potential patients are aware of the services available to them and that current patients are keeping up with their appointments. However, these incredible individuals are much more than 'middle-men.'
What is a Peer Outreach Specialist?
Our community-based health care delivery sites are all equipped with doctors, nurse practitioners, registered nurses and other medical professionals of all concentrations. Naturally, their responsibilities keep them thoroughly busy. So, it's not always feasible for them to reach out to current/potential patients, make appointments and/or follow-up on scheduled ones.
This is where the peer outreach specialists come in.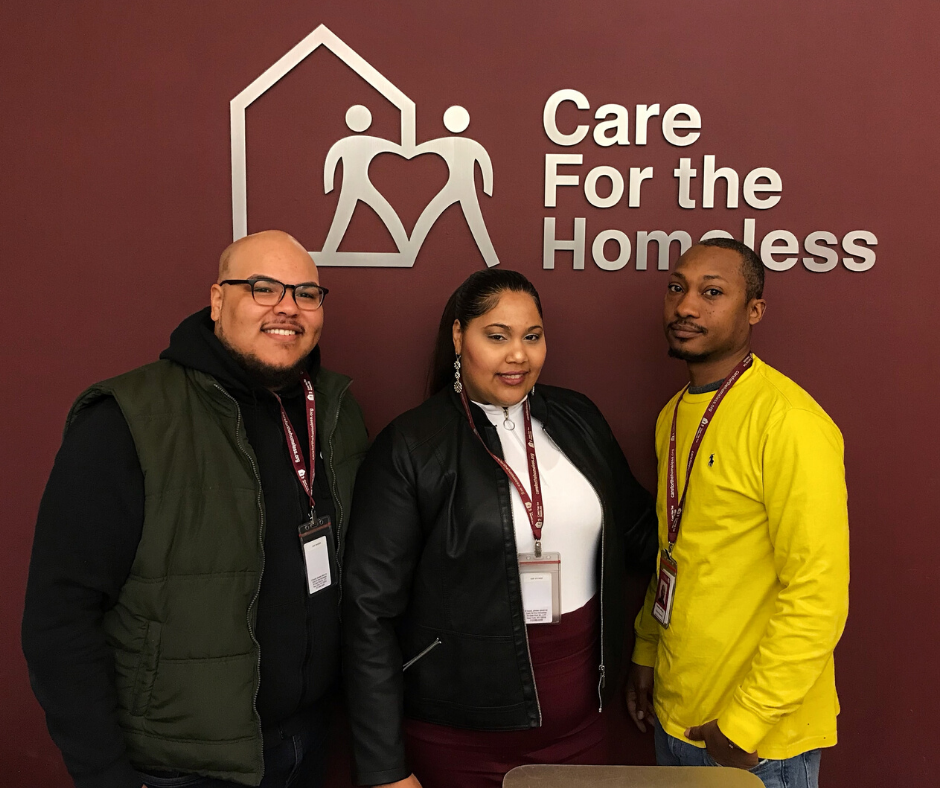 "We inform our clients that may not be aware of our services," said CFH peer outreach specialist, Dominick Johnson. "But we also inform community groups, neighborhood organizations and anyone else we think could benefit from our services."
"We also help [consumers] with anything they might need," he continued. "It could be making an appointment, filling out a registration form or getting a prescription refilled."
While these responsibilities are essential, the peer outreach specialist's role reaches so much further beyond the text of their job description.
Breaking the Stigma of Homelessness
"Our job is also to break the stigma of homelessness," Johnson commented. "A lot of the population we work with have reasons they haven't been seeing a doctor. They know that, just because of their situation, they're always going to face the stigma."
"Patients might feel that a doctor will turn them away or make rude comments," he elaborated. "They might have a 'bad taste in their mouth.' We let patients know that they don't have to worry about that with our providers."
"We let them know that they're going to receive the same kind of health care, that someone who isn't in their position would be getting."
All in the Execution
This sounds great and it is. But the traumas of homelessness are always varied and complex. So, outreach specialists need to consistently be on their toes when working with potential patients.
"Everyone [we work with] has a traumatic experience," said CFH outreach specialist, Jonathan Espinal. "And they can be a little standoffish at first. But what I do is: I always try to smile, make direct eye contact and make them feel like a real person."
"A lot of them feel like they get walked over and forgotten every day," he continued. "So, when you give them that attention and open up to them, it really helps build that connection and puts you in the best position to be helpful."
This sentiment is held by all on the team.
"We're that person they go to," said outreach specialist, Genesis Reyes. "A lot of the people we work with don't have families. So, when they come to a site, we want and need to make them feel welcome."
Making a person experiencing the trauma of homelessness comfortable is no small feat. And even though it may be a difficult task, the peer outreach specialists wouldn't have it any other way.
After all, they've been there themselves.
One-on-One
Integrating peer support with homeless individuals and health care is a valuable and impactful practice. But don't just take our word for it. Research from the Community Mental Health Journal confirms that, "Peers with experience of homelessness offer unique perspectives in supporting those [currently] experiencing homelessness. Peer support has significant impacts on quality of life, drug/alcohol use, and social support."
This is why the CFH team is so effective in their outreach work.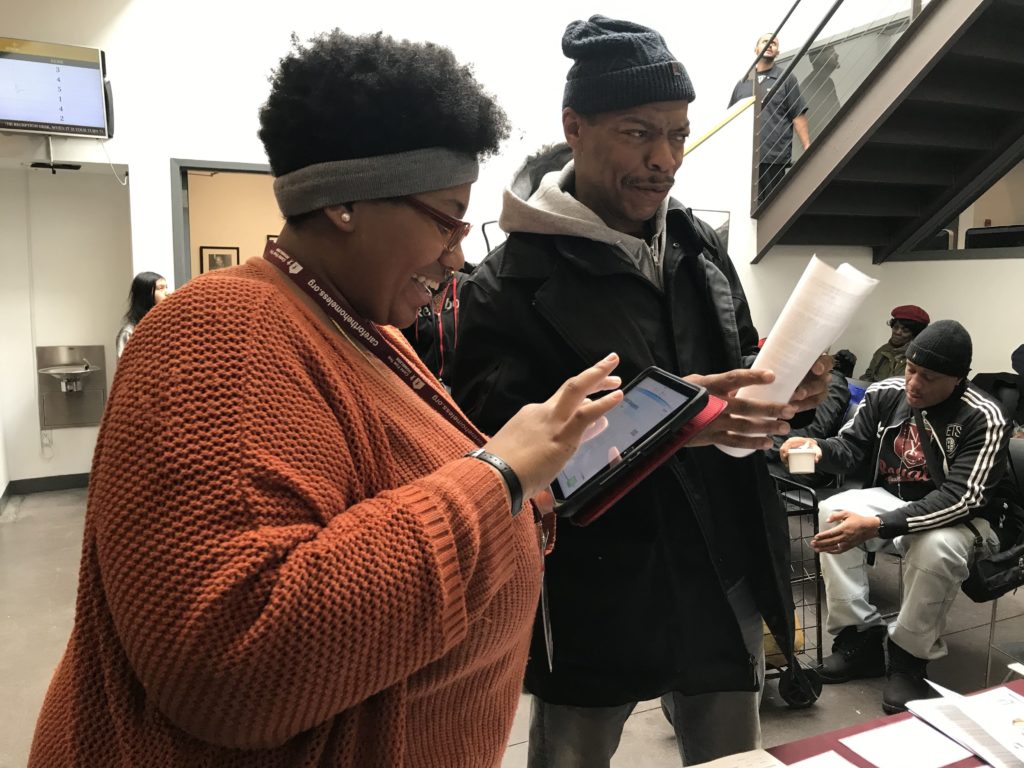 "I was homeless with my two children," Reyes recounted. "I remember how frustrating it all was."
"When I was younger," added Espinal. "I was in a situation where I had to bounce around from home to home for a few months. It stuck with me. So, getting this job, I can relate."
"Some of the trials and tribulations I went through in my own life motivated me to do this," echoed Johnson. "I always knew that I wanted to help vulnerable people and give back."
Their Effect
Give back, they surely have. The effect the team has had on their respective communities has been evident. Between June of 2018 and July of 2019, the team spoke with over 1,500 people, influencing them to take advantage of CFH health care services.
Within that impressive number, the team chose to highlight a few powerful stories that resonated with them.
What Success Looks Like
Jonathan Espinal told the story of Nathaniel A., who he'd met at the Living Room Health Center in the Bronx. Nathaniel had been staying at the Living Room Safe Haven for 2-3 years. However, he hadn't been to a doctor since the early 1990s.
"He was very afraid of seeing the doctors," said Espinal. "And at first, he was standoffish. So, one day I said, 'Let's just get you registered. We'll check your blood pressure. No needles. No doctors.'"
"He asked if he could think about it," he continued. "I gave him until lunch time. So, when lunch rolled around, I gave him an incentive and he agreed. He had his blood pressure taken and noticed that it wasn't so bad."

Nathaniel went on to schedule a physical. After the physical, he received referrals. And ultimately, he entered the suboxone program [to treat substance use disorder].
"Now he's been three-months sober," reported Espinal. "He's about to get his apartment now and I'm really excited for him."
Ms. Reyes reported a similar story. A man was nervous about seeing a doctor and had been for some time. However, with Ms. Reyes' encouragement, he finally made an appointment.
"We found out he was very sick," said Reyes. "But we got him on the right medication. Then he started feeling better, dressing better and he was more motivated. I connected him to the GED program at POTS [Part of the Solution]. He always updates me and is excited about his progress."
"And it all started with him going to the health center. We didn't push him to the side."
Increasing Access to Care
The outreach specialist team's passion for helping others is evident. However, their success is tightly bound to their understanding of health care's benefits.
"It makes sense that people in our population don't view [health care] as a priority," Johnson observed. "They have to think about what they're going to eat or where they're going to sleep. So, their health gets pushed back. We're there to remind them that they need to focus on health."
Unfortunately, access to proper resources is limited in the communities the team works in. Some don't have insurance, and some are undocumented.
"So, there's a lot of trauma behind not having health care," Espinal observed. "But that's the great thing about [Care For the Homeless]. We can give care no matter what, see all those people and take care of anyone."
"There's always a way."
The NYC Council generously supports the CFH peer outreach program and has done so for the past 7 years. Now, the program supports full-time positions for the current four peer outreach specialists (not pictured: Faith Exodus).
We thank the City Council Members Stephen Levin, Mark Levine, Ruben Diaz and Speaker Corey Johnson for ensuring that this program continues to grow. We'd also like to thank the New York City Council as a whole for their collective support.

Additionally, we're thankful for all those who have donated to the Billy Young Memorial Fund. Their support of this vital program is critical.
And of course, we express our heartfelt thanks to the peer outreach specialist team, for their exemplary work. Their efforts are essential to CFH's success in engaging homeless individuals in the critical health care that guides them along the path to health and housing.