How You Can Make a Difference
Your generosity can and will have a positive effect on those we serve. Explore below to see just four ways!
Homelessness is a condition, not a characteristic of a person. This distinction is important because it means homelessness is treatable.
At Care For the Homeless (CFH), we're more than just a bed. That means that behind every service is a kind and compassionate person. People experiencing homelessness are facing a difficult time in their lives. Addressing their thoughts and feelings is as important as addressing their health. And YOU can make a difference in the treatments and services homeless New Yorkers need and deserve.
Mr. B's Journey
A recent example of this work in action comes from our Safe Haven on Morris Avenue in the Bronx. Early this year, a man by the name of Mr. B walked through our doors. He was in his late 60s, was suffering from pneumonia, and had struggled with drugs and alcohol for most of his life.
However, after meeting our staff, he enrolled in a detox program, achieved sobriety, and moved into his own apartment.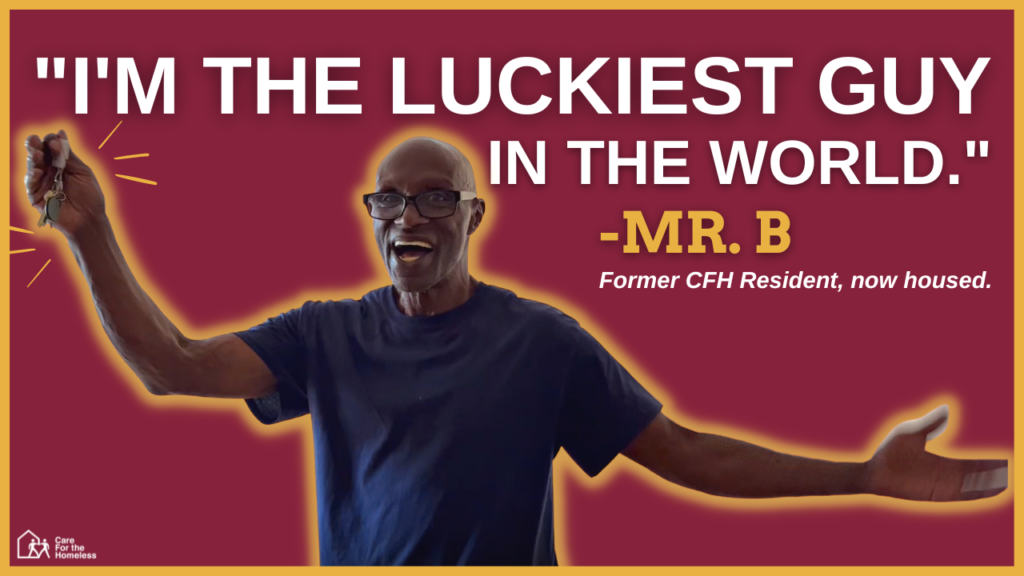 Friends like you can take pride knowing that your generosity can and does help New Yorkers like Mr. B. Any gift of any amount is helpful. What's more, there are several ways for you to make that gift. Explore below to learn more.
1. Our Donation Page
The fastest and easiest way for you to make a gift is via our 'Donation Page.' The simple webform allows you to make a one-time gift or a recurring, monthly one. And, you can now use PayPal of Venmo to make your gift! In addition, you may also allocate your donation towards specific areas of our work.
These include women, children, street homeless individuals, mental health, policy and advocacy efforts, or where the need is greatest.
Click HERE to make your gift today.
2. Make a Gift Via Your Employer
Many companies and organizations allow their employees to make a gift directly from their paycheck (one time or per pay period). This is made possible by giving portals such as Benevity, Your Cause, Bright Funds, Givinga, Mastercard, Allstate and BNY Mellon. Many companies will also match charitable donations.
Ask your HR or payroll office how to make a gift via paycheck and if there's a company match, today.
3. Give Your Gift Via Stock*
If, by the end of the year. you have appreciated stock; you could make a larger gift using it than cash. What's more, you can possibly impact your tax return by donating that stock to CFH.
Tax laws have changed since 2020 and 2021, so please review your portfolio and talk with a trusted advisor before making any final decision.
To donate stock to CFH, please follow the instructions on this PDF or call: 212-366-4459, x217, for more information.
4. Make a Qualified Charitable Distribution (QCD) from an IRA*
You may also be eligible to make a QCD from an IRA. If you are and make your gift prior to the 2023 tax season filing deadline, you may have your gift count toward your 2022 taxes.
Click here and here to find resources on QCDs.
Thank You
Thank you for considering Care For the Homeless as the beneficiary of your year-end charitable giving. Your kindness means the world to those we serve.
*Disclaimer
The information above is not intended to be tax or financial advice. CFH does not endorse any author or company referenced in any article previously distributed. Please consult a tax expert or your advisor to determine your eligibility regarding the information above for a stock gift or QCD to benefit CFH or another nonprofit.