"HOmelessness Started in 2016"
In recent interviews, President Trump discusses homelessness as a phenomenon that started a mere two years ago in major metropolitan areas. These types of misinformed and inaccurate statements have become common in the current administration. As advocates, we must work to inform the public on the real causes of homelessness to avoid stigmatizing individuals and families experiencing homelessness due to factors far beyond their control.
Homelessness is a nationwide problem that is caused by systemic factors such as the ever-decreasing availability of truly affordable housing, stagnant wages, discrimination, poverty system failures and much more. It did not suddenly appear, rather it has been a growing concern and will continue to increase if we do not pursue better policies to prevent and end it.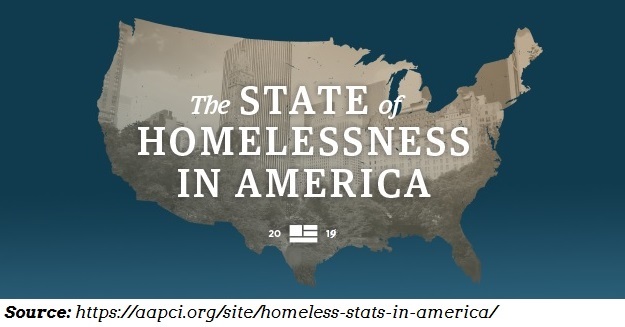 The National Low Income Housing Coalition (NLIHC) releases a report every year that highlights barriers to reducing homelessness, Out of Reach (2019) and The Gap: A Shortage of Affordable Homes 2019. The reports examine the availability of affordable homes in America for our nation's extremely low-income (ELI) renters and the reality of affording rent at current wages.
In The Gap, the supply of affordable homes is shown to be completely inadequate to meet the needs of ELI citizens whose household incomes are at or below the poverty guideline or 30% of their area median income ($32,010 for a family of four). No state or major metropolitan area is found to have an adequate supply of affordable housing. For example, New York state only has 37 affordable and available rental homes per 100 ELI renter households.
Out of Reach focuses on the hourly wage a worker employed full time and their ability to rent a modest home without spending more than 30% of income on housing at fair market rent. In New York City a household must earn $30.76 an hour to afford a 2-bedroom apartment or work 111 hours a week at minimum wage. These reports show that the availability and affordability of homes nationwide is a growing problem, and one of the biggest drivers of homelessness.
There are no easy answers to the problems of homelessness, but adequate and affordable housing is a vital step towards solving the problem. Stigmatizing vulnerable people and offering nothing in the way of viable solutions is a dangerous tactic that fuels misinformation and can have long term consequences on the small victories homeless advocates have sustained through the years. In NYC we will continue advocating for the House Our Future New York campaign asking Mayor Bill de Blasio to increase the availability of affordable housing units for people experiencing homelessness to 30,000, with 24,000 of those being new construction. If we want to make a decisive impact on the rising numbers of homelessness, truly affordable housing units are an integral part of that equation.
Click Here to Download August 2019 Policy Matters Newsletter