Pandemic Response – COVID-19 Impact Fund
View our response to the COVID-19 pandemic and learn how you can help homeless New Yorkers during this time.
At this difficult time for our city and country, all of us at Care For the Homeless (CFH) recognize how many needs and challenges we all face today and in the near future. With every daily update, things change, often it seems for the worse, but as the days pass, it does seem there are glimmers of hope. For CFH, the signs of hope include the kind words of support we have received from many of our friends, colleagues, funders and others, near and far.
Thank you!
For several months, CFH staff and board leadership have been working on our organizational response to the pandemic, with the highest priority being to ensure we have the human and medical resources to continue providing the highest-quality health care for our patients and shelter services for our residents. Below is a brief overview of our response and the COVID-19 Impact Fund.
The CFH COVID-19 Pandemic Response:
For all services and operations, CFH is rigorously following guidance of the CDC, NYC Dept. of Health and Mental Health, NYS Department of Health, and NYC Department of Homeless Services. With 25 health center sites and 2 shelters that house 320 medically frail and mentally ill women, CFH is working round-the-clock to continue providing critical support and services to our patients and residents.
The Need:
The COVID-19 pandemic is a serious situation everywhere but it is impacting the homeless sector in significant ways. At CFH, we know that over 50% of our adult patients have over-lapping, co-morbid conditions. This includes Diabetes, hypertension and/or asthma. All have been identified by medical authorities as serious underlying issues that could worsen the virus and reduce the chances of recovery.
In addition, mental health issues are 3 to 4 times more prevalent in the homeless population than the general public. This further complicates a homeless person's ability to manage their medications and/or moderate their behavior to either prevent themselves from being exposed or contaminating others around them.
In order to manage and treat these conditions (and many others) we must retain a full roster of professional health care staff. In addition, we must also have the essential equipment and supplies to not only deliver services but also protect our staff.
CFH faces a myriad of challenges related to the delivery of health care and shelter services. However, the health centers and shelters must and will stay open for homeless New Yorkers until otherwise directed.
Our exceptional health care team, made up of physicians, nurse managers, RNs, medical assistants, dental staff, mental health and behavioral health professionals, will continue to deliver the highest-quality services to vulnerable New Yorkers. And our dedicated shelter staff will continue to support and provide essential services to residents.
The COVID-19 Impact Fund
The greatest needs where your financial support will be allocated are:
Replace critical projected operating revenue fall-off due to patients not coming into health centers while needing to maintain medical staff coverage.
Hire temporary medical professionals to fill-in when a CFH health care provider needs to be out for illness, family or other need.
Provision of emergency services to respond to the ever-changing crisis that may not be reimbursable.
 Purchase extra supplies, so that we're prepared for supply chain disruptions and to protect our staff, patients and residents.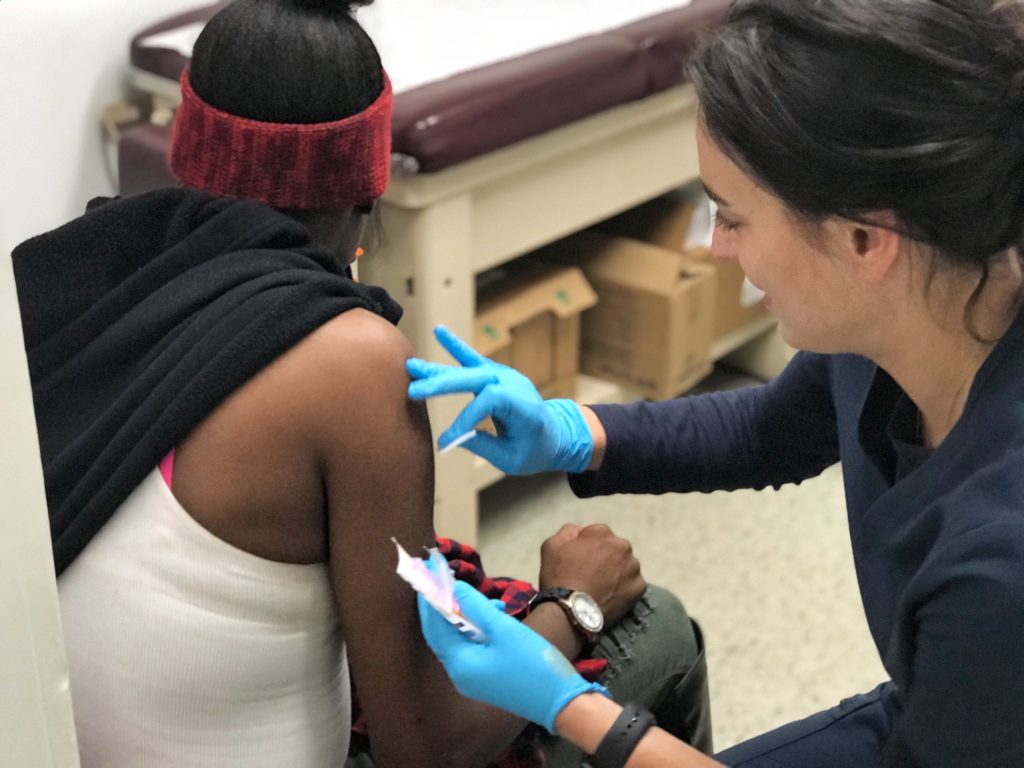 If you would like to help, please consider making a donation.
For questions, please contact:
Cathy J. Sharp, Director of Development & Communications
646-520-9685 or csharp@cfhnyc.org