Provider Profile | Joy Favuzza, NP
Empowering Patients, Forging Relationships
Care For the Homeless' (CFH) Jackson Health Center sits comfortably in the eastern sector of the Bronx's Mott Haven neighborhood. Amidst the vibrant activity on the streets and sidewalks, is the hustle and bustle of the Bruckner Expressway and the Robert F. Kennedy Bridge, both of which are within viewing distance. Down below the pavement, the 6-train echoes loud and clear.

To the building's side is a colorful, lightly worn playground. Its many slides, bridges, and ladders provide the perfect setting for any kid's imagination to run wild. But, on a morning as cold as March 13th, it was understandably empty. But, now as the weather begins to warm, it's easy to envision those slides and ladders overrun, and teeming with laughter.

The CFH Health Center is co-located in the Jackson Family Residence, a living space for homeless families. The site is operated by CFH site partner BronxWorks and in addition to studio-to-one-bedroom sized apartments, there's an active daycare service for infants and preschoolers as well as a staff of social workers and case managers. These individuals help the families at Jackson rebuild their lives by working with them to secure permanent housing. And rounding out these essential services, is the CFH-managed and licensed health center – conveniently located within the facility.

CFH Family Nurse Practitioner, Joy Favuzza, has been Jackson's primary provider for the past 3 years. In December of this year, she'll be celebrating 10 years with CFH.

Joy began her nursing career at just 15 after attending a BOCES (Boards of Cooperative Educational Services) program and was already a Licensed Practical Nurse (LPN) by age 18. After a long career as an LPN, Joy attended Colombia Nursing School. There, she would not only further her education, but forge a friendship that would forever connect her to Care For the Homeless.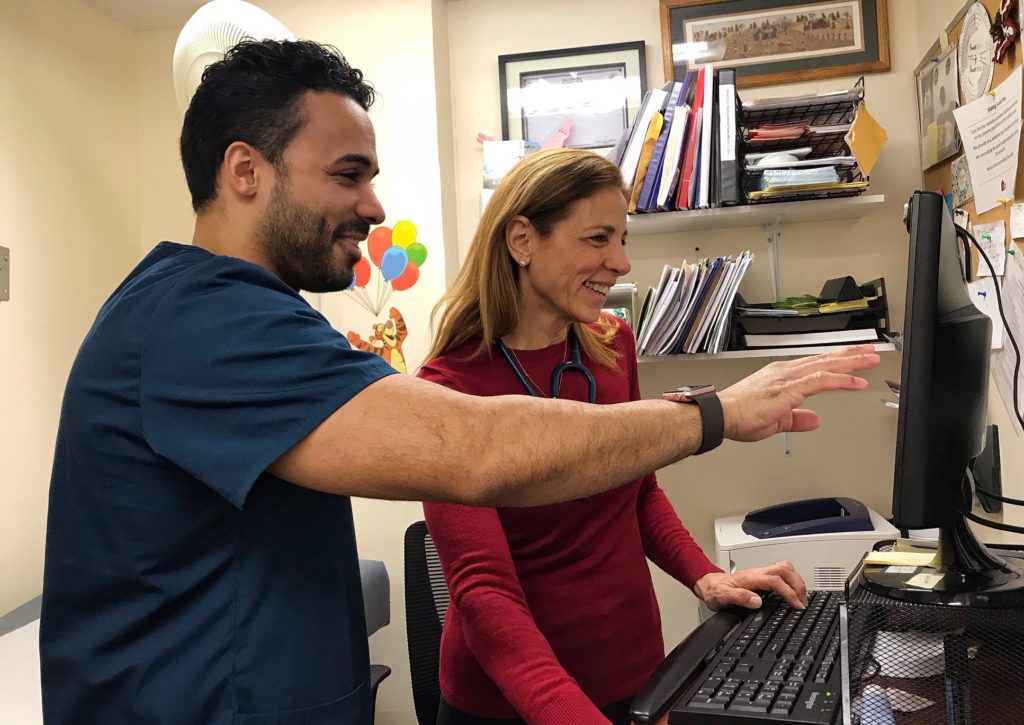 "My friend said she needed me to fill in for her at a site while she was on vacation. I thought it sounded great, so I filled in. Well, a couple of months later I got another call and she was pregnant. So, I filled in again and that's when I fell in love with the work," Joy reminisced. "Deep down in my heart though, I knew I would always be working with people who were experiencing homelessness."

Joy recalled having such conviction as young as 5-years old. "My parents were 1st generation Italian-American and the first in their family to own an actual house. It was always a point of pride for them. So, I remember knowing how lucky I was to have a home. So, when I realized that there were kids my age that didn't have that, it stayed with me. Trying to understand their struggles helped me become more compassionate to other people."

This attitude has unequivocally shaped Joy's approach to working with underserved patients. In her office, she not only tries to be a model for a healthy lifestyle, but a friend. She commented, "Beginning with a patient's social history is so important. People experiencing homelessness are not only sick or coming in for preventative care, they're also going through a major life crisis. One that can last for months or years. So, I always push myself to get to know my patients as well as I can. I ask them where they were born, what education they have, and then I get into the tougher questions about drugs, alcohol, etc."

"I try to meet people where they are and help them feel empowered and that they aren't alone."

This mindset is invaluably essential, as many people experiencing homelessness often feel at odds with health providers. Financial and housing instability lead many to believe that they'll be turned away by providers due to lack of insurance, treated poorly by providers, or that they just plain can't afford health care.

These fears compound on top of what are already debilitating, chronic illnesses. So, meeting patients where they are is a simple, but profound gesture.
"Recently I saw a young woman that came to me because she was told she needed a routine physical," Joy commented. "I started my social history, and something made me put my computer aside and ask, 'what was really the matter.' She had been giving me an inkling that she wanted something worked out other than her physical. It turned out that she had been addicted to Percocet for the past few years."

NP Favuzza immediately introduced her patient to CFH's substance abuse colleague. Through suboxone treatments, Joy's patient has been clean for 2 months and was recently employed.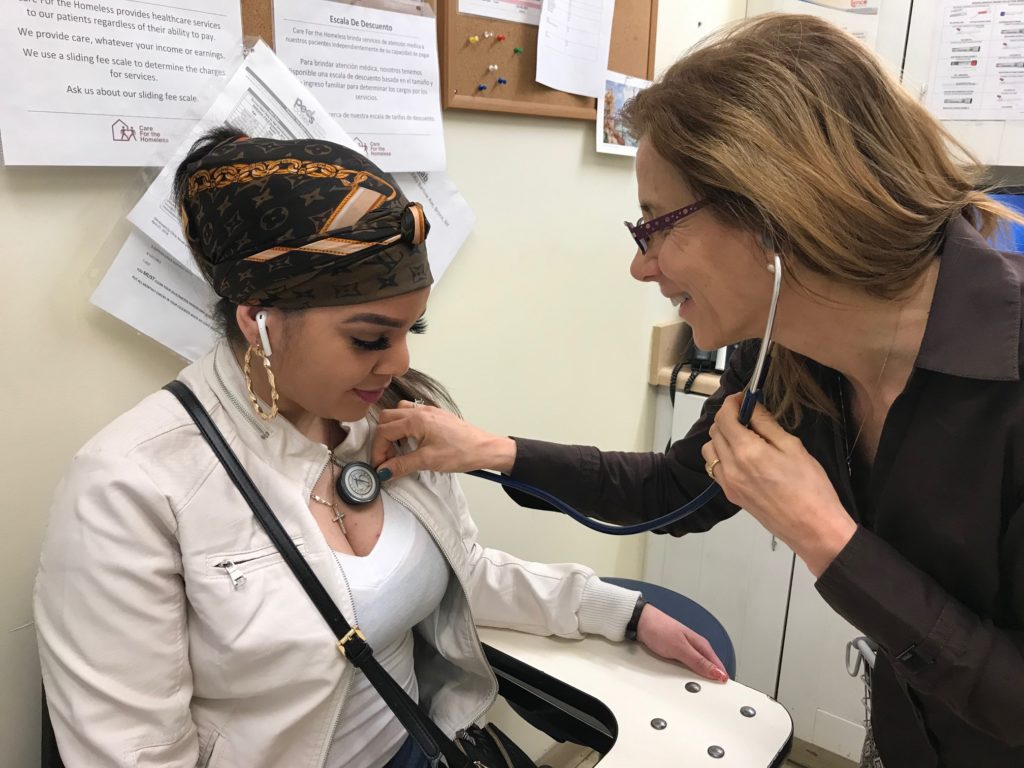 "This is a great organization, with great people," Joy concluded. "The suboxone program is allowed to flourish as it has because of people like my Nurse's Assistant Orlando Canales, [Substance Abuse Colleague] Luis Fernandez, and [Nurse Manager] Judson York."

She continued, "For anyone that wants to help, I think it's about starting small and getting your toes wet. Small things likevolunteering or donating $5-10 a month go a long way."

Joy has long been a dedicated member of the CFH team and a devoted ally to those in need. If you'd like to see and hear more of the impact she's had in building trust with her patients, watch the video embedded below.