We are Not Powerless
By Jane F. Lane
"We Are Not Powerless" describes Jane's journey as a new CFH donor. You can start your own journey today by making a year-end donation.
Sometimes, things are all good.
Compassion & Acceptance
The first time I heard about Care For the Homeless (CFH) was in an article in The City. It discussed the opening of their women's shelter on West 52nd Street. The neighborhood offered the simple reciprocal gifts of empathy and compromise to the shelter residents, coping in their own way with the increasingly perplexing reality of our city.
A reality where women scramble for a home as others nearby wander in palaces in the clouds.
Together, CFH and the local community board (CB #4) had forged a coalition of compassion and acceptance. Their sensitive peace treaty seemed like a masterpiece of understanding, respect and cooperation.
I immediately wanted to meet these people at Care For the Homeless.
At a meeting at their offices, Executive Director, George Nashak; Chief Medical Officer, Dr. Regina Olasin, and other members of the team described their strategy of working on the seemingly intransigent problem of homelessness. A problem for which, as George stressed, there is no simple cure.
As a clinical social worker and a director of a foundation, I look for interventions, actions that effect real, lasting change and not just palliative treatments. Yes, CFH provides roofs, under which is a unique network of health care and social services suitable to the needs and lived experiences of the residents and visitors.
The Trauma of Homelessness
Sometime later, I attended a CFH workshop on the Trauma of Homelessness, a morning-long panel presentation on active programs and interventions, including their community-based health center soon to open in a Brooklyn neighborhood.
The health center will provide urgently needed services not only to residents of nearby shelters and supportive housing buildings but to the community at large. Thus, helping to alleviate the financial stress on hospital emergency departments that are often the only local medical resource. A New York City Council member, clearly aware of and committed to the needs of the homeless, described a bill he was about to present for a vote.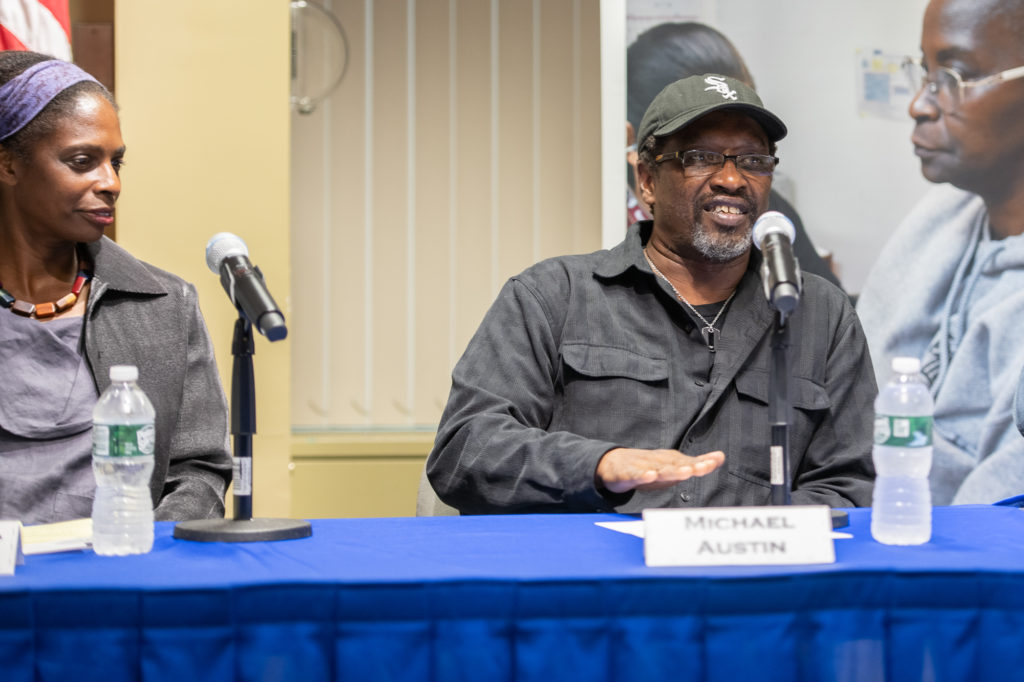 During one panel, a long-time CFH client spoke about his lived experience as, to use his words, an "undomiciled person." He described, with great feeling and gravity, his trauma.
At one moment, I shot up straight in my seat. "Every time somebody asks me about what it's like to be homeless, I'm re-traumatized," he said.
As a clinician, I know people re-experience trauma. They think about it; their bodies remember it. Asking them to describe these impressions requires the utmost skill, patience and respect.
We're Not Powerless
A more revealing and productive question might be, "How do I feel when I see a homeless person?"
Recently on the subway, a man with many parcels, raggedly dressed and unwashed, loudly lectured us passengers as he paced restlessly through the car. After he got off at Union Square, a young woman and I made eye contact. We both smiled the same nervous, slightly embarrassed, awkward smile, as if we'd just witnessed something shameful.
We both looked away, feeling powerless.
But we're not powerless.
We give, we vote, we volunteer, and we feel empathy for our fellows on the street.
We reach down and think, "What's it like for me to experience this?"
We see what possibilities the people at Care For the Homeless offer all of us, and we get to work.