Provider Profile | Amy Sternhell, Psychiatric NP
Amy Sternhell has been with CFH for over 15 years. In that time she's treated the mental health care needs of patients experiencing depression, anxiety, and other disorders.
By Connor T. Moriarty
The Peter Jay Sharp Center for Opportunity (PJS) in Brooklyn, New York isn't your typical homeless shelter. In addition to housing 400 homeless men, PJS offers an eclectic menu of resources, such as computer labs, classrooms, recreational facilities, a library, quiet study areas, and case management offices.
These resources help the men of PJS work towards finding employment, attending school, reuniting with their families, and any other goals they might have.
Among these essential resources, is a Care For the Homeless (CFH) health center.
The co-located facility sits on the north side of PJS's beautiful building. Residents can be found sitting outside the health center, chatting up their friends and waiting for their appointments to begin. Meanwhile inside, CFH medical professionals conduct appointments, speak with patients, and administer care.
Amy Sternhell, Psychiatric Nurse Practitioner
One of those personnel is Psychiatric Nurse Practitioner (NP) Amy Sternhell. Amy is a native New Yorker and has been with CFH over 15 years.
Her passion for helping others improve their mental health began in college, after earning her BA in Psychology.
After working as a Registered Nurse, Amy enrolled at Columbia University to pursue her Master's in Psychiatric Nursing. Post-graduation, she became a Clinical Nurse Specialist in Psychiatry and practiced at Lennox Hill Hospital for 16 years.
Then finally, after a long career in nursing, Amy found herself at Care For the Homeless.
Everyone Needs Different Things
"The clients here [PJS] are truly underserved in that many of them have never spoken to anybody about themselves," Sternhell commented. "They never thought anybody would ever be interested in their lives. They never thought that their own health history mattered."
In 2018, CFH treated over 2,700 individuals experiencing depression, bipolar disorder, anxiety, and other mental health disorders, across our multiple locations. "Everyone needs different things," said Sternhell.
"So, it's wonderful to sit with somebody, whether they're young or old, and give them the opportunity to think about their lives and about where they want to go."
Helping Others Access their Inner Resources
During her time with CFH, Amy has seen many patients come and go. Each left her with an impression, and each had an undeniable effect on her and her practice. However, when questioned about them, one stood out.
Ms. Sternhell described a man in his late 30s struggling with depression and anxiety. Throughout his stay at PJS, he had trouble getting along with others.
"He didn't see his own part in the ways that he sabotaged himself, whether it was in opportunities or relationships," commented Sternhell. "But, over time I was able to work with him. Eventually, he became less irritable, less anxious, and he began to understand his part as well as learn more about himself."
Amy was overjoyed to reveal that the gentleman is now working towards getting his Master's in Social Work. "He still has his struggles," said Sternhell, "but he's doing better than he ever imagined."
You're Entitled to Your Own Needs
"[Patients] might not all have such dramatic changes," Sternhell explained. "However, they do have changes in the ways they interact with others and the ways they begin to respect themselves."
She continued, "They finally look at their own needs, realize they're entitled to them, and that they have to figure out how to meet them if they're going to have a better life."
The Team at the PJS Health Center
Of course, the effect that the CFH health center at PJS has on the men who live there, is only possible because of the stellar team in place.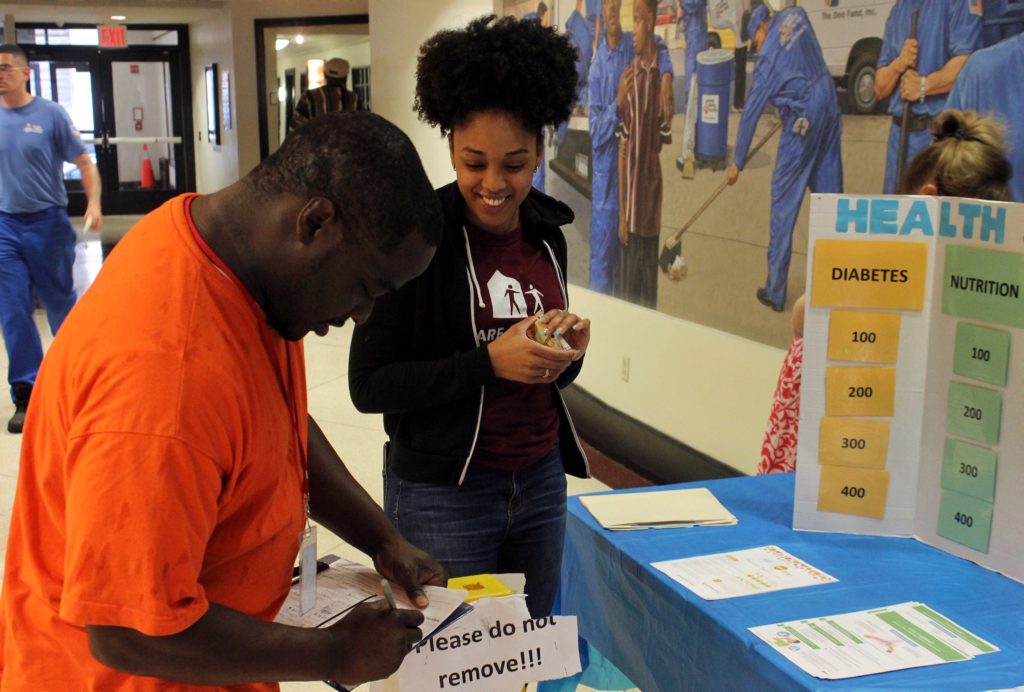 "PJS is a great place to work," beamed Sternhell. "We [the health center staff] have a great relationship with the case managers, the director, and the assistant director of the residence. It's like working with one big team. We're working together to help people, and no one ever has to solve a problem all by themselves."
Research from both the American Journal of Community Psychology and Psychiatric Services, illustrate that homeless single adults and street homeless adults are disproportionately affected by high rates of mental illnesses and addiction disorders.
People like Amy, help make these conditions a little more manageable while also preparing those affected for lives of independence and permanency. Please support Amy, her colleagues, and the work they do by making a gift to CFH. Your contribution, no matter the amount, can and will help change the lives of people experiencing homelessness all over New York City.